'We do see an increasing number of carriers agree that this is the way to bring stability to their own participation in the MGA market,' says managing director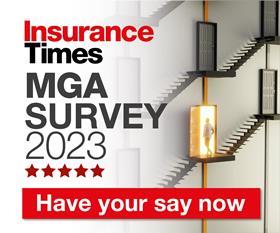 As UK brokers respond to this year's MGA Survey, Insurance Times spoke to Paul Wingfield, managing director of Chapman & Stacey (C&S), about the challenges MGAs are currently facing and what considerations MGAs need to keep an eye on moving forward.
The 2023 MGA Survey aims to explore brokers perception on service levels. What can you tell us about how service levels have developed or transformed over the last 12 months at C&S?
Transformed would be the wrong word. Hopefully we have demonstrated more of the same. C&S have built their whole business model around a core of high service levels and we have maintained this high standard. We believe we remain one of very few markets where you will pretty much always get same day terms, even on a complex risk. We aim to keep turn around below four hours.
Trading support is another area being investigated in the 2023 MGA Survey, what is your strategy when it comes to providing trading support for brokers?
We take the view that most brokers are extremely professional independent businesses and will ask for the support they want or need. Different brokers want different things from their insurer and MGA partners. Some want nothing more than a decent service from their panel, some want training in products and systems, some want more dialogue [and] others want schemes, [such as] white label.
We are always happy to try to work with a broker in the way that assists them most and makes our mutual targets most easily achieved .
Claims service is another area being investigated, an area of frustration for brokers in all the research we do at Insurance Times. What is your MGA's approach in providing a high-level claims service?
MGA claims services is a diverse question. There are very different levels of delegation across the market, ranging from full delegation to the MGA through to the carrier maintaining full claims control. As with traditional insurer claims handling, much of this relies on loss adjusters and TPA arrangements for service levels.
For our part in any claims process, C&S ensure same day turn around and we encourage our insurer and loss adjusters partners to provide the same sort of service levels that policyholders should be entitled to expect.
Concern over the prospect of removal/changes to capacity arrangements is still very apparent in the MGA market. Should brokers have any concerns about the capacity arrangements at your MGA, if not why?
C&S work closely with our capacity providers and mainly operate under long term agreement for our delegated authorities. Capacity does change occasionally, but this is always considered and timely. Personally, I do think that the delegated market should move entirely away from annual renewal type arrangements and we do see an increasing number of carriers agree that this is the way to bring stability to their own participation in the MGA market.
What can brokers expect in the next year from you?
More of the same in terms of striving for excellent service levels. A couple of recently launched products for cargo/transit and for professional indemnity have broadened our footprint further and we will continue to build on the success of our property and liability products and packages.
Cyber does still remain surprisingly slow for an excellent and competitive product and we hope to see significant growth here too.