The vaccine minister confirmed that this scheme was to provide insurance such as clinical negligence and employers liability
The Association of British Insurers (ABI) has backed the time-limited government funded indemnity scheme for the administering of vaccines in care homes and pharmacies.
The government-backed scheme was announced on 18 January, and it was confirmed via a written statement from the vaccines minister Nadhim Zahawi that this was to provide clinical negligence, employers liability and personal liability cover in circumstances where a care provider cannot secure sufficient cover through their commercial insurance policy.
It is intended to run until the end of March 2021 as a stop gap solution.
Zahawi also said that clinical negligence cover would be provided to community pharmacies involved with administration of the Covid-19 vaccines, this scheme being extended until the end of June 2021.
Huw Evans, director general at the ABI, said it recognises the "huge pressures the NHS currently faces".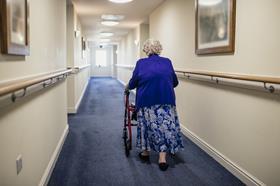 He continued: "We support the scheme's aims that where care homes operating designated settings cannot access insurance, there is an option of the government's indemnity scheme."
It follows care homes having to turn away new patients due to not being able to get insurance for Covid-19 positive ones.
Not entirely explicit
Evans continued: "The insurance Industry remains supportive of the care home sector and will continue to work with the government on the detail of this scheme and to assist with ongoing insurance provision wherever possible in these most challenging circumstances."
Meanwhile, Jennifer Johnstone, associate at BLM Law said: "Although the wording of [Zahawi's statement] is not entirely explicit about this, it is very much our understanding that the new scheme is to cater for the claims risks around covid positive patients being discharged from hospitals.
"The scheme is not intended to replace commercial cover, but rather fill in gaps where cover cannot be secured fully.
"At this stage it is not clear how less than full cover might be defined nor how such partial or limited cover might operate alongside the newly announced indemnity arrangement."
Health secretary Matt Hancock estimated that from the Government Actuary's Department these two time-limited schemes could ultimately cost the government between £30m to £70m.
Hancock said: "We expect the true value of the contingent liability to be at the lower end of the stated range" he took some care to point out it was based on certain high-level assumptions about future claims and "as such it is highly uncertain".
Johnstone added that while the provision of the scheme is timely, "it is not clear at this stage how far the government indemnity would extend where there is partial cover obtained on the commercial insurance market".
She advised insurers to make sure any cover offered to care providers and pharmacies is carefully worded.