The new scheme will operate alongside the share buyback programme set to follow Axa Germany's sale of its closed life and pensions portfolio
Axa has today (3 August 2022) launched a €1bn (£836m) share buyback programme in recognition of "the very good performance and solidity that Axa has demonstrated in this first half of the year", according to Thomas Buberl, the insurer's group chief executive.
Speaking during a press conference this morning around Axa's half-year financial results, Buberl confirmed that the newly launched share buyback scheme would commence "as soon as possible, subject to market conditions".
Axa expects the programme to be completed by February 2023.
Founded on financial success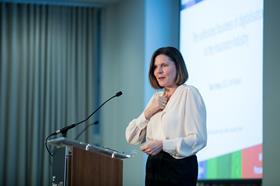 According to Axa's half-year update, group-wide underlying earnings have improved by 8% in H1 2022, moving from €3,643m (£3,011m) in 2021 to now stand at €3,918m (£3,262m).
Net income has also increased by 3% in this time period to €4,108m (2021: €3,996m), while gross revenue has seen a 2% uptick over the first six months of the year – this is recorded as €55,141m (£46,115m) at the end of 2022's first half, compared to €53,865m (£45,036m) for the same reporting period in 2021.
These financial improvements, as well as "the confidence of Axa's management in the group's ability to achieve the goals of the Driving Progress 2023 strategic plan" and the insurer's overall "highly disciplined capital management", are the key drivers behind the new share buyback scheme's implementation, noted Buberl.
Within its financial report, Axa explained: "Given a strong Solvency II ratio at 227% and an expected cash remittance of €5.6bn (£4.7bn) for full-year 2022, Axa's board of directors approved the launch of a share buyback programme for up to €1bn on 1 August 2022, pursuant to the authorisation granted by the annual shareholders meeting of 28 April 2022. Axa intends to cancel all repurchased shares."
Buberl continued: "Management is confident in the group's ability to reach its goals and given the very good operational performance of the group, the board of directors has approved this launch for a maximum amount of €1bn.
"Thanks to the successful transformation of the group, we are in a position to deliver more value to our shareholders while continuing to invest into the future – notably into digialisation, into which we devote €2bn (£1.6bn) each year."
'Normal' step
The share buyback scheme announced today is unrelated to Axa's previously confirmed share buyback programme linked to "the sale of the closed life and pensions portfolio by Axa Germany", clarified Buberl.
In July 2022, Axa Germany entered into an agreement with German insurer Athora Deutschland GmbH to sell its €16bn (£13bn) portfolio of life and pensions insurance reserves in Germany. The portfolio has been closed to new business since 2013.
With expected cash proceeds of €0.4bn (£334m) set to arise from the transaction, Axa confirmed last month that it would launch a share buyback scheme once the deal had closed to "offset the earnings dilution".
Buberl added: "The €1bn buyback that we are announcing today is not related to that sale of our portfolio. It is tied to the very good performance and solidity that Axa has demonstrated in this first half of the year.
"Today, we are a platform that is very solid. It is normal that when you manage capital in a disciplined way that the board decides to make that €1bn share buyback."