Commercial insurance managing director says businesses 'have a responsibility to act today to ensure a better tomorrow' by tackling emerging risks and not solely focusing on today's threat actors, such as the pandemic
British businesses have been warned they cannot ignore new emerging risks as they battle the challenges posed by Brexit and Covid-19.
As Aviva launched its first annual Risk Insights Report this month, the insurer's interim managing director of commercial insurance Nick Major warned that while UK businesses have the resilience to withstand the challenges posed by Brexit and the Covid-19 pandemic, they cannot afford to ignore emerging threats.
The report warned that businesses had reduced their efforts to tackle issues such as climate change while they wrestled with the risks that Brexit and the pandemic had created.
The report, which canvassed the opinions of 1,260 business leaders from UK organisations of all sizes and industries, identified the top concerns for British bosses - Covid-19, Brexit and business and supply chain interruption dominated the top three spots.
Climate change ranked as the 13th risk faced by businesses, with just 11% identifying it and extreme weather events as one of their top five concerns.
Long-term lens
While 89% of businesses believe they are resilient to business risks, less than half (47%) of all businesses said they regularly undertake health and safety risk assessments, fire risk assessments (33%) or business continuity planning (28%).
Small businesses in particular are struggling to prepare against potential risks: 42% of small businesses said they have not carried out any of the main risk management activities in the past 12 months.
Major explained: "Businesses have had to deal with a tremendous amount of uncertainty in the past year and the agility and determination they have shown in response to the challenges they have faced has been extraordinary.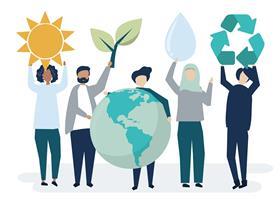 "The pandemic has underscored how increasingly interconnected and complex the risk landscape is; the importance of a strategic, proactive programme of risk management and prevention has never been clearer. "
However, he warned that emerging risks posed a long-term threat to businesses and should not be ignored.
"Looking ahead, the challenge for businesses will be to juggle a multitude of pressing risk management priorities: managing the uncertainty of operating in a current pandemic, knock-on risks such as supply chain disruption, emerging risks such as cyber, while not forgetting fire and flood and the evolving threat of climate change, which in the long-term poses some of the most disastrous risks to business," Major explained.
"The ability to manage the immediate threat but retain an eye on the evolving and longer-term risks is going to be critical for business."
"The explosion of homeworking and the move online through successive lockdowns has created an opportunity for cyber criminals; as our dependency on technology grows, so too must our emphasis on the prevention and protection from the increasing threat of cyber attacks. Cyber is now one of the biggest risks businesses face.
"British businesses are strong and resilient and will emerge from the challenges of the current pandemic and Brexit.
"But evolving risks such as cyber and climate change remain the most significant long-term threats, not just for business, but for society.
"Failure to address the climate emergency now jeopardises our collective future, and UK businesses have a responsibility to act today to ensure a better tomorrow."
Big ticket risks
Aviva said operating in the midst of a global pandemic had presented businesses with an ongoing series of challenges, of a breadth and depth previously unknown.
Looking to the future, 69% of businesses said the long-term impact of Covid-19 on their business will be negative. For 39% of companies, lower growth is expected as a result. So, it is not surprising that businesses said they are more "worried" about the impact of Covid-19 than any other risk in the research.
On the UK's departure from the European Union, employers said they were faced with a wide range of risks as the UK sought to develop new trading relationships outside the EU.
"For example, supply chains that previously relied on the free movement of goods and services across the EU have had to be reviewed and revised," said the report.
"Aviva's research shows that 31% [of] businesses said they were actively looking to source from local or British suppliers to help ensure greater transparency and control, especially as consumer attention on a business' supply chain has heightened.
"One in six (17%) business leaders identified a shortage of skilled workers as a top five risk for their business, reflecting uncertainty in the supply of labour post-Brexit."