By 2050 flooding annual losses are expected to increase by between 25-85%
Flood Re has said that risks of climate change threaten its ability to exit market by 2039 following £160m record flood losses in 2019/2020.
This figure is more than the UK government-back reinsurance scheme paid out in the first three years combined and ten times more than the previous year.
This is according to an annual report from Flood Re for the year ending 31 March 2020, recently released.
It highlighted the global challenge of climate change, with rising temperatures potentially impacting properties at risk of flooding.
The report stated: "The global outbreak of Covid-19 in 2020 presented unique challenges to individuals, companies and governments across the world."
And it also examined the implications for Flood Re's ability to exit the market by 2039.
It follows major storms Ciara and Dennis flooding much of the UK after three benign winters, Mark Hoban. Flood Re's chair said: "Flooding is a dynamic risk."
This led to thousands of homes being flooded in South Wales, Northern and Central England and the Scottish Borders between November 2019 and February 2020.
Challenge intensified
Although Hoban acknowledges that losses from flooding have reduced in recent years as a consequence of flood investment.
He said: "As we look to the future, we can see climate change increasing the frequency and severity of flooding, putting more homes at risk.
"By the 2050s for example, annual losses from flooding are expected to increase by between 25% and 80% depending on whether global temperatures warm by 2°C or 4°C. This is the case even with current levels of investment in flood defences, underlining the need for further adaption measures to protect homes from flooding."
He said that the Flood Re scheme will be impacted by climate change.
This he said is down to two reasons:
As the incidence of flooding increases, it is likely that insurers will cede more homes to Flood Re and more households will benefit from the security of continued affordability and availability.
Secondly, it will intensify the challenge we face in managing the market back to affordable, risk-reflective pricing by 2039.
Hoban added: "Climate change also threatens our ability to exit the market by 2039. That is why effective flood risk management and investment in defences are essential to reduce the frequency and severity of future flooding.
"We have been encouraged by the announcement in the 2020 Budget of significant increases of funding in this area and would like to see the UK government go further by ensuring this investment is sustained over the longer term.
"In addition, it is essential that all new housing developments are built with flood risk in mind. This means that existing planning guidance is followed and, where necessary, enforced."
Other highlights in Flood Re's Annual Report for 2019/20 included:
Benefitting more homeowners: The number of policies in 2019/20 (196,638) is 20% higher than 2018/19. More than 300,000 properties have benefitted from the Scheme since its launch four years ago.
Delivering availability: 94% of the home insurance market offer the Scheme and 98% of homeowners with prior flood claims can now receive quotes from five or more insurers.
Delivering affordability: Four out of five households with previous flood claims have seen a price reduction of more than 50%.
Higher awareness: Helped launch the first National Flood Forum Flood Risk Communities' Charter and supported the Environment Agency's 'What the Flood?' campaign.
A strong financial position: Profit before tax of £61m (£136m year prior), an increase in invested and liquid assets to £487m (2019/20: £358m)
Covid recovery
Flood Re's chief executive Andy Bord said there a critical need for any Covid-19 recovery plan to "build back better" as well as for continued and sustained investment in flood-risk management strategies.
Flood Re welcomes the Green Homes Grant measures that the Chancellor announced today, which will provide homeowners with vouchers to mitigate the impact of climate change.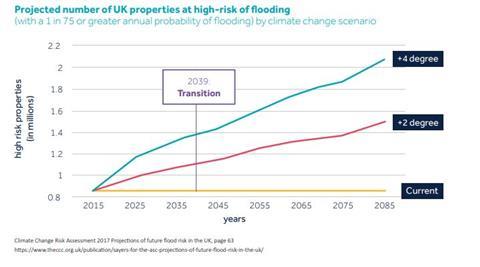 Bord said: "We would like the Green Homes Grant to include help for householders to install property flood resilience measures to protect their homes from one of the most severe impacts of climate change - increased flooding. This would reduce the impact of the devastating effects of flooding for thousands of homes across the country.
"The Government has rightly sought to enable homes to 'Build Back Better' after the impact of Covid-19. They should extend the Green Homes Grant scheme to enable the same to happen for homes at risk of flooding."
In terms of the home insurance, Bord added: "Flood Re has had a significant impact on the affordability and availability of home insurance with more than 300,000 households in the UK who are at risk of flooding directly benefitting from the Scheme.
"We are helping more families than ever before and are in a strong financial position ready to support those impacted by flooding.
"This year has been significant in many ways. We have seen the first major flooding events since our launch in 2016 as well as having to adapt to the Covid-19 pandemic.
"In these unprecedented times, the country must build back better, developing a recovery plan that creates sustainable and resilient foundations for the future.
"For those at risk of flooding, it is critical that investment in flood mitigation strategies be maintained."
The Flood Re report also suggested how best to respond to the unprecedented circumstances caused by Covid-19.
Many households impacted by flooding have endured further hardships due to the pandemic which has caused delays to building works or increased costs.
---
Not subscribed? Become a subscriber and access our premium content