The firm adds that Admiral's premium refund initiative is 'an influential move'
Motor insurance gross written premium (GWP) is predicted to increase by 0.4% in 2020, reaching a total £19.54bn, according to data and analytics firm GlobalData. This is despite the fact that the current lockdown regime in the UK means that fewer cars overall are on the roads.
Yasha Kuruvilla, insurance analyst at GlobalData, explained that this is because of where policyholders park their cars.
He said: "There will be a slight growth in the motor market because any cars parked on public roads have to be insured. If car owners take those vehicles off the road onto private property, then they would have to submit a [Statutory Off Road Notification (SORN)] and then cancel insurance and would need to re-tax their vehicle once they are back on the road.
"Given that this is a hassle and that cars are generally one of the most valuable assets a person holds, we don't think a lot of people will take this route, so existing policies will remain in place.
"Once the lockdown is lifted we expect to see some new policies come into place from regular business as usual."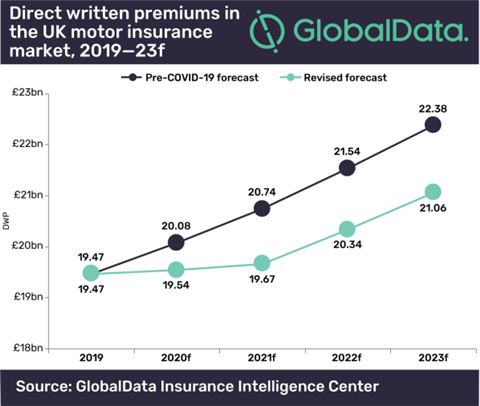 'Influential move'
Kuruvilla added that motor claims are likely to see a significant decrease because of the "sharp fall in road traffic accidents due to the lockdown".
Although insurers may, therefore, reap profits because of lower motor claims, they may need to use this income to balance their books if they are experiencing losses in other lines.
Some insurers, however, have opted to use these savings to refund part of customers' motor insurance premiums, to reflect the fact that they aren't driving as much and are therefore a lower claims risk.
Admiral, for example, announced last month that it will automatically award £25 for each car and van that it covers.
Kuruvilla described this as an "influential move".
He continued: "Admiral has offered customers some refunds over the next few months. Admiral is the leading insurer in the UK, according to GlobalData's 2019 UK Insurance Survey and this could be an influential move.
"Insurers offering discounts and refunds were not considered in our forecasts, so this could further reduce expected growth, if other insurers follow Admiral's lead.
"Mainstream insurers risk losing customers on traditional policies if they give nothing back. Customers will be more open to usage-based policies if other insurers do not offer any form of refund or discount. They will still have to pay a small base fee in these policies, but will make savings on not using their cars."