Ex-Aviva boss put together a 33p-a-share offer for the troubled firm
Ex-Aviva boss Mark Wilson has been revealed as the architect of a plan to take over troubled personal lines broker and cruise business Saga.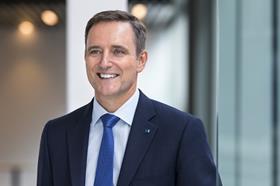 Ex-Aviva chief executive Mark Wilson left the business in 2018 not long after a preference share controversy
Wilson had also partnered with Munich Re and two US private equity firms for the bid, The Times reports.
But Saga spurned the £370m bid, worth 33p a share, and now may come under pressure to explain the rebuttal.
Saga's share are now trailing at 16p, just half the reported bid price Wilson put together.
Wilson's plan included slashing debts and keeping the business together.
Last week debt-laden Saga revealed it had rejected an 'unsoiticted and highly conditional' approach, instead turning to shareholders for a cash injection.
It wants to raise £150m. Up to £100m will come from former owner Sir Roger De Haan. The deal will dilute existing shareholders.