The new hire is expected to 'make a big and positive difference' to GRP's retail portfolio, says group chief executive
Independent insurance intermediary Global Risk Partners (GRP) has appointed former Marsh UK head of placement and networks Duncan Carter as its new retail chief executive.
The newly created role is a result of continuing growth within GRP's retail division, which now employs more than 1,000 staff across the UK.
Carter will report to GRP group chief executive Mike Bruce, who labelled the hire a "great appointment".
He continued: "The retail division is the largest business in GRP and the exponential growth we have seen over the last few years is set to continue with a great pipeline of acquisition deals in play.
"Our model is to integrate, digitise and drive organic growth in the brokers we acquire and as [chief executive of] retail, Duncan will join the GRP executive to spearhead these ambitious plans.
"Duncan is another great appointment for GRP and follows [chief operating officer] Steve Anson from Ardonagh in April.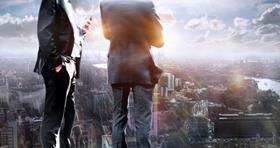 "He is a seasoned practitioner with the breadth of experience to make a big and positive difference to our high performing retail division.
"GRP's ability to attract the best senior industry talent is key to our strategic ambitions and we will continue to seek out top talent to drive performance across all our businesses."
Creating winners
Carter has 30 years of experience in the UK insurance industry.
Prior to starting at GRP, he spent nine years at broker Marsh, working in a number of senior market-facing roles. This includes stints as managing director, markets, managing director, direct and partnerships and, finally, as head of placement and networks.
He also spent 18 years at insurer Allianz in the commercial division, where he was head of Premierline Direct before joining Jelf - now Marsh Commercial - in 2012.
Speaking on his appointment, Carter said: "GRP is a stellar brand and I'm excited to be leading the retail business at this time.
"My priorities will include working alongside Steve [Anson] and the existing retail leadership team to push through GRP's digital transformation agenda, ensuring that we deliver our ambitious organic growth targets and keeping up the momentum on our M&A pipeline.
"The broking sector is going through a significant period of change, accelerated by Covid, and the opportunities for driving growth are in plain sight for businesses with the right model and with strategic intent.
"It is clear that GRP will be one of the winners from this latest cycle and I look forward to being part of this successful team."