Insurers are calling for clear standards for the plumbing industry to make sure contractors that fix water leaks are properly qualified
Claims for household water leaks were up by more than 30% in the first quarter of 2021, compared to the same time last year, reaching £175m, according to a collaboration of insurance trade bodies.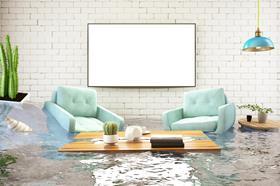 The Forum of Insurance Lawyers (Foil), the Association of British Insurers (ABI), Managing General Agents' Association (MGAA), Lloyd's Market Association (LMA), London and International Insurance Brokers Association (LIIBA) and British Insurers Brokers' Association (Biba) are working together to raise awareness of how individuals can manage the risks of an escape of water in their property.
In a cross-industry initiative, the UK's leading insurance bodies have highlighted some key actions that homeowners can take to reduce the risk of water damage to their home.
Laurence Besemer, Foil's chief executive, said: "The cost to consumers of domestic escape of water claims needs to be driven down quickly and for that reason, we are urging improved education on the measures homeowners can take, as well as improved standards and competencies to reduce substandard workmanship and improve awareness of what fraudulent claims look like."
The trade bodies further revealed that in 2019, escape of water claims totalled £1.7m per day - this reduced slightly in 2020 to £1.4m per day, most likely due to more people being at home during the Covid-19 lockdown and therefore better able to spot a leak before it caused any significant damage.
Domestic escape of water claims can include a burst pipe or a leaky dishwasher connection, for example.
Clear standards
Meanwhile, insurers are calling for the implementation of clear standards across the plumbing industry, to ensure that contractors appointed to fix escape of water issues are properly qualified, competent and use high quality and appropriate materials.
Laura Hughes, general insurance manager at the ABI, said: "For all insurers, customers are at the heart of our sector, which is why this collaboration has taken place.
"Raising consumer awareness of some of the more simple activities individuals can do to reduce the risks to devastating water damage in their home is so important.
"My key suggestion is that everyone seeks out where their stopcock is and makes sure that they are able to turn it off quickly should the worst happen."
Mike Keating, MGAA chief executive, added: "With the increase in homes of more bathrooms, open plan architecture and modern pipework, the average claims cost for water damage has increased exponentially, coupled with significant consumer disruption and distress.
"Consistent, regular and simple advice to consumers on how they can prevent escape of water will help reduce claims frequency and ultimately costs."
The following steps have been proposed by these insurance bodies:
1. Stopcocks – know where these are and make sure that they are tested regularly as they often seize up.
2. Consider fitting a leak detection device that will monitor usual water use and turn off the water if it suspects a leak.
3. Get a professional to install any new appliances which require plumbing.
4. Where possible, regularly check the pipes where appliances are plumbed in for any looseness, leaks or drips.
5. Consider what is being put down the drain and make sure that drains are cleaned regularly if a blockage is suspected.
6. It's best to use appliances when at home as opposed to setting them on a timer.
7. Check for leaks from taps, toilets, sinks, baths and showers and make sure any damaged sealant, tiles or cracked shower trays are replaced as soon as damage is spotted.
8. When doing any drilling or DIY, make sure to avoid accidentally damaging any water pipes - a stud finder can help you locate them.
9. Use the water meter to check for any leaks – make sure nothing is using any water in the property, then turn the stopcock off and note the reading.
10. When leaving the property unoccupied for any length of time, it's best to shut down the water supply if it is safe to do so.