Get the recognition your achievements deserve by submitting your entry for this year's Insurance Times Awards. But hurry, Tuesday 24 July is the last day for entries
Get your entries in soon for the Insurance Times Awards 2018.
Time is running out to cement your place among the best, the brightest and the boldest in insurance. Last call for entries is Tuesday 24 July.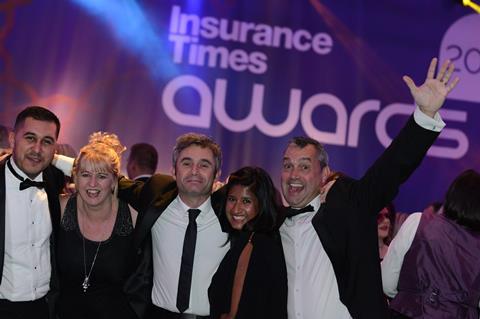 Showcase your achievements and get recognised across the sector as a leader in the field.
A win or nomination is a great PR opportunity, helping to boost your reputation and drive sales.
Stand out from the crowd and show your customers – and competitors – that you excel at what you do.
This year, there are six main award groups with 31 awards recognising stand out initiatives, standard-setting achievements and outstanding teams and individuals.
Entry is totally free of charge – so to find out more and to make a start on your submission, click here. Don't delay – the entry deadline is Tuesday 24 July.
The black tie gala awards event will be held at the swanky Intercontinental O2 Hotel on 6 December.
Last year's event, hosted by TV star comedian Kevin Bridges was attended by more than 1,000 of the general insurance industry's leading lights. It was a celebration of all that is best in UK general insurance.
This year's event will be hosted by another top ranked entertainer.
Here are some of the accolades accorded to award winners by last year's judges:
"A very successful start-up in compliance that is a treacherous area for any business."

"A beautiful customer-led approach to innovation."

"Using data in an innovative way that really helps its driver customers and insurer partners."

"An entrepreneurial approach to technology to provide a real solution to fill a gap in the market."

"An end-to-end solution, more flexible and more responsive than offerings by traditional claims technology providers."

"An innovative digital claims program that streamlines the claims process and puts the policyholder at the centre of the process."

"A fully integrated internet of things programme that provides 24/7 coverage and support for policyholders and which has attracted investment and collaboration from major insurers."

Insurance Times Awards categories 2018

BROKER AWARDS

Commercial Lines Broker of the Year

Customer Champion of the Year Sponsored by Tokio Marine HCC

Excellence in High Net Worth Broking Sponsored by Home & Legacy

Excellence in Technology - Broker

Independent Broker of the Year Sponsored by Aviva

Personal Lines Broker of the Year

Schemes Broker of the Year Sponsored by Ecclesiastical

INSURER AWARDS

Customer Champion of the Year – Insurer

Excellence in Technology - Insurer

Insurer Claims Initiative of the Year Sponsored by Nationwide Accident Repair

Insurer Innovation of the Year Sponsored by ACORD

MARKETING AWARDS

Digital Campaign of the Year New for 2018

Marketing Campaign of the Year – B2C

Marketing Campaign of the Year – B2B

Social Media Campaign of the Year New for 2018

GENERAL AWARDS

Aggregator of the Year New for 2018

Business Partner of the Year

Claims Partner of the Year

Diversity & Inclusion Excellence Award

Excellence in Claims Technology

Excellence in Technology – General

Excellence in Professional Development

MGA Initiative of the Year

INDIVIDUAL AWARDS

Broker CEO's CEO of the Year (Nomination only)

Insurer CEO's CEO of the Year (Nomination only)

The Insurance Times Industry Achiever Award (Nomination only)

NOMINATION-ONLY AWARDS

Best Digital Customer Experience (Nomination only )Sponsored by ACORD

Commercial Lines Insurer of the Year (Nomination only)

Direct Insurer of the Year (Nomination only)

General Insurer of the Year (Nomination only) Sponsored by Enterprise

Personal Lines Insurer of the Year (Nomination only) Sponsored by Carpenters