New research from LCP finds that three quarters of insurers are struggling with prioritisation when it comes to enhancing their reserving process
Prioritising different areas of focus is the biggest barrier to change for insurers looking to improve their reserving practices, according to the latest research from law firm LCP.
A new report from the firm found that three quarters of insurers cite managing competing priorities as the greatest barrier to change, with 75% agreeing that this is preventing them from enhancing their reserving process to ensure that it saves time and is fit for purpose.
Other barriers to change include data availability (61%), cost (47%), software (44%), anchoring to traditional techniques (33%) and business engagement (31%).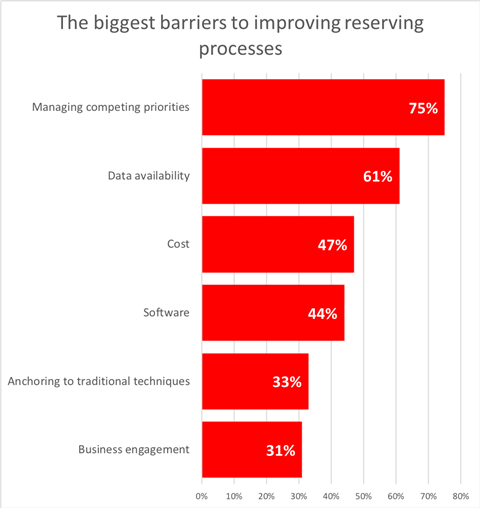 Data availability was the second biggest barrier to change for insurers, with reasons for this including a requirement to improve data quality, a lack of detailed historical data being available and challenges around managing legacy data systems.
Insurers responding to the survey said that they are already improving data systems and implementing stricter controls around data capture and quality to address this need for improved data.
The report also found that more than two thirds (69%) of insurers earmarked earlier identification of trends as a top priority if they are to ensure that all critical decisions are based on the most up-to-date information.
Tom Durkin, head of insurance consulting at LCP, said he was encouraged by the fact that insurers were aware there were areas that needed to be improved.
"Our market review concluded that firms are ready to significantly improve benefits to the business from their reserving," he said. "It is encouraging that areas for improvement focus on specific developments that will help firms to move towards their ideal process.
"Our report comes at a time that reserving is high on firms' agendas. This follows the PRA publishing its 2020 priorities for general insurers in its Dear CEO letter last month, which raised a number of concerns around firms' reserving processes."
"The PRA has made clear that it expects these issues to be examined at board level," he added.