By Miles is calling on the ABI to end what it terms the 'low mileage penalty'
UK drivers undertaking less than 7,000 miles a year are paying £180 more on average for their car insurance compared to motorists driving further than 7,000 miles, according to new research by car insurer By Miles and aggregator MoneySuperMarket.
Defining this as the "low mileage penalty", By Miles stated that 19.3 million drivers are therefore overcharged for car insurance.
James Blackham, co-founder of By Miles, said: "People are still reeling from the insurance industry's loyalty penalty scandal and now we have another – the low mileage penalty.
"At a time when drivers are completing fewer miles during the lockdown, the unfairness of the traditional car insurance pricing structure is clear to see. If you drive less, you should pay less.
"It's a fact that lower mileage drivers are less likely to claim, so there is no logical reason for the higher charges they're facing."
By Miles analysed 1.7 million car insurance quotes on website MoneySuperMarket and found that the most popular annual mileage bracket chosen was between 5,000 and 6,000 miles. These drivers, however, are being charged up to £215 more than motorists completing 11,000 to 12,000 miles a year.
The age group most affected by this issue are those aged between 25 and 29 who declare an annual mileage of 5,000 to 6,000 miles – this demographic is paying around £239 more a year for car insurance versus those of the same age driving double that amount.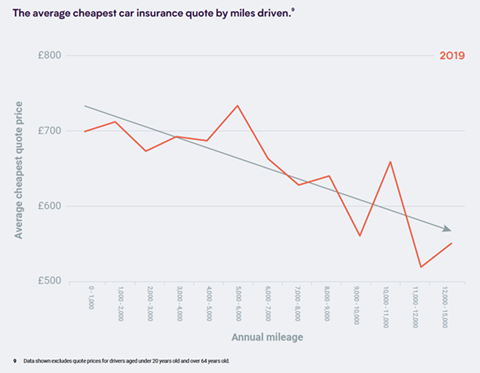 Claim risk
The research confirmed that the more miles a policyholder drives, the more likely they are to make an insurance claim – for example, a motorist who drives 12,000 miles a year is 50% more likely to make a claim over the past five years, compared to an individual driving less than 7,000 miles a year annually.
A motorist driving 12,000 miles a year is also 300% more likely to declare a claim compared to someone driving 1,000 miles a year.
By Miles further found that drivers aged between 40 and 49 who are driving 5,000 to 6,000 miles a year are paying around £150 more for their car insurance compared to policyholders driving double the distance.
In a bid to counteract this low mileage penalty, By Miles has penned an open letter to the ABI asking for insurers to review their pricing to reflect reduced risk with decreased mileage, as well as greater transparency on pricing structures.
Blackham continued: "Insurers must stop inflating premiums for lower mileage drivers to subsidise the higher claims costs of higher mileage motorists and start actively rewarding people for driving less.
"The technology needed to log the actual miles completed by drivers already exists and it's unfair to keep overcharging low mileage drivers just because that data isn't being properly taken into account by insurers.
"We've taken steps to challenge the industry to act in a more transparent way. We believe the change can happen. Insurance needs to evolve to work in this new world."
The insurer added that those driving less than 7,000 a year could save up to £350 on their car insurance with a pay-by-mile policy, such as By Miles provides.
Dave Merrick, head of motor at MoneySuperMarket, said: "At MoneySuperMarket, we want to help households across the country save money on their car insurance.
"If you have a low annual mileage, you may want to consider pay-as-you-go car insurance. Insurers such as By Miles offer a fixed annual cost which covers your car while it's parked, meaning you only pay for the miles you drive each month.
"The most important thing is to shop around and find the best deal for your needs. You could save up to £269."
A spokesperson for the ABI said: "Despite ongoing cost pressures for insurers, motor insurance remains a competitive market. Insurers always take into account, and constantly review, a wide range of relevant factors, including age, type of vehicle, driving record, and mileage, to ensure that premiums accurately reflect the risk.
"During lockdown, ABI members have provided extra support and help to motorists, for example extending cover at no extra cost to key workers and NHS volunteers using their vehicles. In addition, some insurers have provided premium refunds, free of charge breakdown cover and replacement vehicles for NHS staff, and flexible premium payment options. Anybody experiencing financial difficulty as a result of Covid-19 should contact their motor insurer to discuss any additional help.
"During lockdown, the vast majority of motorists will have still required continued cover against fire, theft or accidental damage even when they were not using their car as often. Any reduction in cost pressures over 2020 can clearly benefit consumers."