Over two thirds of UK insurance businesses active today were incorporated in the 21st century, analysis shows
Last year saw 504 new insurance businesses registered with Companies House, the equivalent of more than one per day throughout 2018.
It increased to nearly two per day during the first four months of 2019 with 216 registrations, alongside insurtech investment rising.
This surge means that two thirds (68%) of UK insurance businesses active today were incorporated in the 21st century.
This is according to a new analysis by Policy Expert, which looked at data on Companies House.
Adam Powell, co-founder and chief operating officer at Policy Expert, told Insurance Times: "These findings show that exponential growth is making the UK insurance space more vibrant and competitive by the day – driven forwards by entrepreneurial ideas and tech-led innovation.
"Today's market offers great potential for firms who are agile enough to unlock it, and we are excited to keep pushing the boundaries to generate customer goodwill and business growth."
London is top
London topped the scales for the number of insurance businesses with more than a third (35%). This included 30% of of all insurance firms established in the 21st century and 45% of those established before the year 2000.
Following this was Grantham, Leeds, Manchester, Bristol and Birmingham making up the next five insurance start-up "hotspots" which accounts for a combined 6% of all 21st century businesses.
Overall in the UK, three in five (60%) of new insurance businesses started in the 21st century have been focused on general or commercial insurance activities.This is more than twice as many than those focused on the life insurance sector (27%).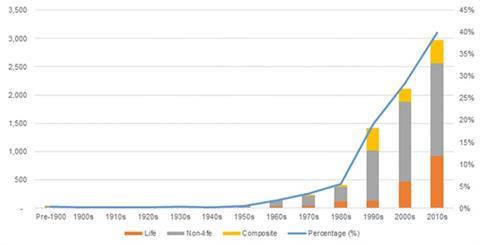 Contrast
Two in five (40%) new insurance businesses have emerged since 2010, with an additional 28% founded in 2000 and 2009. This was in both non-life insurance sectors but included life insurance also.
In contrast to this, fewer than one in five (19%) active firms emerged in the 1990s, the remaining 13% dating back to 1989 or earlier.
Pace
The pace of business population growth has accelerated again in 2019, with 216 registrations in the first four months of the year – nearly two per day.
But despite the wave of market entrants, the average UK insurer is currently 16 years old with an incorporation year of 2003.
This comes before technological innovations that have impacted consumer behaviour and business operations, including iOS, Android, Amazon Web Services, Facebook, Twitter, Gmail, WhatsApp and Instagram.
Rubbing shoulders
Powell added: "The rapid rate of business creation means a horde of start-ups are rubbing shoulders with firms that are generations apart in terms of experience. Many businesses – both old and new – are still chasing the holy grail of combining innovation and scale. In today's competitive climate, it's not enough for new propositions to stand out from the crowd, unless you can convert the crowd into loyal customers by offering something above and beyond the status quo."
Policy Expert sold its first policy in 2011, it has now sold over 2.3m policies and has a customer base of 550,000. More recently it acquired MGA start-up Sure Thing!
Its analysis covered four million business registrations at Companies House cited as active during May 2018 and May 2019.
Subscribers read more
Five AI insurtechs with a big future