Find out who won at last night's awards
Last night, on Wednesday 3 November 2021, Insurance Times returned with its first in-person awards event since the Covid-19 pandemic hit, bringing the title's usual dose of glitz and glamour to London's Royal Lancaster Hotel for this year's Technology and Innovation Awards.
The night proved lucky for some technology-driven businesses that scored double wins, while other firms celebrated bagging their very first award. This year, there were 23 prizes up for grabs in total.
Ivo Graham, stand-up comedian and comedy writer of The Last Leg and Fighting Talk, returned to host the night.
Insurance Times editor Katie Scott opened the evening by thanking all the sponsors and finalists. She said: "The pandemic proved that technology adoption and digital innovation within the insurance industry is incredibly important."
Taking home one of the most prestigious awards of the night, Technology Champion of the Year, was Insurercore's managing director Peter Clarke.
Speaking on his award win, Clarke told Insurance Times: "It was a real privilege to have been voted the Technology Champion of the Year.
"In a year where the market has relied so heavily on technology to keep trading and with so many fantastic people delivering real innovation, it is extremely humbling to have been selected for this award when so many are deserving of the recognition."
Sponsors of the event were Applied Systems, Carpenters Group, CET and Sonr.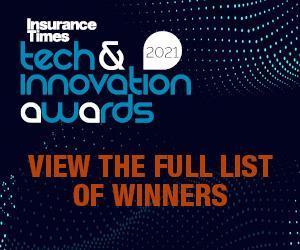 Double winners
Meanwhile, four lucky winners scored double victories, raking in two awards each.
Insurtech Collective Benefits walked away with the award for Best Use of Technology for Customer Experience – Claims (Commercial) for delivering a claims experience that the judges felt was "most relevant". The firm also took home Technology Innovation of the Year – Insurer/MGA as the judges were impressed with its "slick end-to-end digital benefits platform".
CoreLogic also scored a double win on the night, receiving the Best Use of Technology for Customer Experience – Claims (Mobile) as well as Technology Partner of the Year – Personal prizes.
VisionTrack won the Internet of Things Breakthrough Award because the judges were impressed with its use of technology. The firm also walked away with the Technology Innovation of the Year – Claims accolade for being "different". The judges thought the firm stopped claims and improved the customer experience.
CyberCube was another double winner. It took home the award for Risk Modelling Technology of the Year for its work with Lloyd's and broker Guy Carpenter, which saw it model different cyber disaster scenarios. It also won the Technology Innovation of the Year – Data Insights award.
Winning
Taking home the first award of the evening was Acturis - the firm bagged Best Broker Software Management House for its "practical benefits to the broker".
CFC Underwriting won the Best Customer App prize.
Roger Francis, CFC's cyber claims director, said: "Thank you to Insurance Times and the judging panel - we're thrilled that CFC's Response app was recognised as Best Customer App.
"We're extremely proud that all the hard work the different teams put in to its development is making a difference in helping our cyber customers improve their cyber security risk posture, prevent cyber incidents and minimise losses.
"We're committed to making cyber a proactive service and are looking to further expand the app's capabilities - so being recognised with this award is spurring us on to take it to the next level."
NIG's TheHub won the award for Best Insurer Extranet, while Allianz's QuoteSME platform received a highly commended notice in this category.
The Best Use of AI accolade was awarded to Motix Connected for its "impressive accuracy", while software company Insurwave won Best Use of Technology for Customer Experience.
The Best Use of Technology for Customer Experience – Claims (FNOL) category saw a highly commended award go to ThingCo, with CET bagging the main award for its "massive simplification in the claims experience".
Minster Law won Best Use of Technology for Customer Experience – Claims (Service) for an "imaginative use of legal tech" for personal injury claims. Shirley Woolham, chief executive of Minster Law, said: "Delighted that the amazing work our teams have put into bringing Ink, our claims portal, to life has been recognised at such an illustrious awards event."
William Price, the law firm's chief commercial officer, added: "We are obviously delighted to have won this award as recognition of the way in which we are leveraging technology to reimagine the claims experience.
"Our investment in developing Ink has allowed us to transform what was once seen as a complex and often confusing claims journey and make it far simpler and more intuitive for the customer.
"We're continually striving to set new standards of customer excellence in personal injury claims and respond to the needs of our insurer and broker partners by delivering a really differentiated and vastly improved claims experience."
Bridgetech Automotive won Best Use of Technology for Customer Experience – Motor.
Pearson Ham walked away with a highly commended prize in the Data Analytics Excellence category, but law firm DWF bagged the main award because its solution looked at both Covid-19 and the whiplash reforms, according to the judges.
The Fraud Technology Solution of the Year award went to Horwich Farrelly, as judges thought its solution addressed an industry problem for claims handlers.
Ki Insurance won Insurance Startup of the Year.
The award for Investor/Corporate Innovator of the Year went to Vitality for showing "superb ability" after a year of unprecedented circumstances, while a highly commended went to Insurtech Gateway.
The Technology Innovation of the Year – General prize went to Unisure - judges recognised the firm for solving lots of broker issues.
Meanwhile, Broker Insights won Technology Partner of Year – Commercial for "solving a real problem for small and regional brokers".
Congratulations to all of 2021's winners and highly commended firms!