The pub group was forced to close all 760 of its pubs, bars and restaurants
Britain's largest pub group, Stonegate Pub Group Co has sued three insurers for £846m ($1.2bn) over business interruption (BI) losses.
As reported by Bloomberg, Stonegate has been hard hit by repeated UK lockdowns forcing them to temporarily close all 760 of its pubs, bars and restaurants.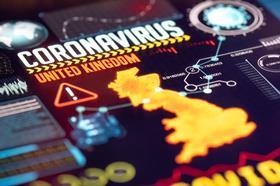 It owns popular chains including the Slug and Lettuce and Be at One.
It follows government social distancing restrictions being imposed for months to mitigate the spread of coronavirus, and the FCA BI test case which ruled in favour of policyholders.
Triggers
Stonegate highlighted that a business interruption clause in the policy has been triggered on several occasions over the pandemic warranting the payout.
Owned by TDR Capital, Stonegate filed a suit against MS Amlin Ltd, Liberty Mutual Insurance Europe SE and Zurich Insurance Plc, according to a UK court filing.
Meanwhile, according to Stonegate's claim form, the insurers said that parts of their policies have been triggered, but that liability is capped at £17.5m, most of which has been paid out already.
The lead insurer, MS Amlin, owns 55% of the share of the policy, while Zurich and Liberty Mutual are each responsible for 22.5%, as cited in March's court documents which were made public this week
A Zurich spokesperson said: "We are not the lead insurer for this customer. However, we do provide some cover and have already made an interim settlement. As this is an ongoing legal issue, we are unable to provide any further details."
Insurance Times contacted MS Amlin and Liberty Mutual but both declined to comment.
Speaking on the situation, Alasdair Dick, partner at Plexus Law, said: "While the Supreme Court decision went a long way to setting a framework to resolve disputes flowing from the pandemic, these sorts of disputes around [the] interpretation of cover are almost inevitable when companies have been hit so hard during the pandemic - even with insurers trying to treat their customers fairly.
"People will, entirely legitimately, take very different views on issues such as whether each shop, restaurant or premises constitutes an individual loss or whether those claims should all aggregate as a single claim and a single policy limit.
"It is hard to see any of those disputes being decided by a court in the near future and until that happens, we will continue to see businesses taking a different view from their insurers."