The Women in Finance Charter has made a series of recommendations to tackle the lack of senior roles filled by women in insurance and promote gender parity
Aviva's group chief executive Amanda Blanc has warned that it could take 30 years to reach gender parity in senior roles, according to the latest Women in Finance Charter (WIF) blueprint.
Blanc, who has been a WIF champion since 2021, said: "Progress towards gender equality in the financial sector remains frustratingly slow. Women, companies and society cannot afford to wait 30 years when we can achieve this in 10."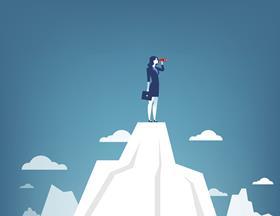 This is according to a prediction made in the blueprint, which revealed the number of women in senior management roles had only increased by 1% between 2018 and 2020 - from 31% to 32%.
The WIF charter was launched by HM Treasury in 2016 to tackle unequal gender representation in financial services.
It has more than 400 signatories so far, including Aviva, Bain and Company, Direct Line Group and Aon. It asks signatories to commit to progressing women in senior roles in business.
To date, the charter has supported businesses in pushing gender diversity agendas and driving sustainable change in the financial services, which includes insurance.
However, the average progress towards targets has slowed in recent years.
Recommendations
To counter this, the WIF charter's accountable executive taskforce has worked with Bain and Company to set out some practical recommendations to help businesses accelerate their progress towards gender equality.
These recommendations are based on interviews with financial services chief executives, academic research and more than 100 responses to a survey issued to all the charter's signatory organisations.
The three recommendations are as follows:
Recruitment as a powerful lever to accelerate gender representation: Proposals include mandated diverse shortlists for senior positions with 50% female representation, greater use of psychometric testing and removing male-biased recruitment advertising.
Retention and promotion, reversing the loss of female talent requires a fundamental shift in approach: Proposals include organisations publishing senior members' bonus payments, advertising all jobs as flexible and creating formal sponsorship programmes for women at all levels.
Culture and behaviour: Proposals include reverse mentoring, championing senior female role models, funding and a zero tolerance policy for harassment.
Blanc continued: "We've got to work quicker and harder for the sake of women, for the sake of society and because a more diverse business is a more productive and innovative one. Our recommendations provide real life examples of best practice and a set of clear actions to guide us all towards lasting gender parity."
Meanwhile, Nishma Gosrani, partner at Bain and Company, said: "It is vital that we make progress now and deliver a fundamental shift in the representation of women throughout the financial services industry. The sector's reputation and ability to attract great talent are at stake.
"The blueprint sets out challenges and success stories and provides a practical toolkit for chief executives and their executives to deploy. Building the next generation of women leaders will be critical to the UK for attracting the best talent as a world leading internationals financial centre."