The IFB, IFED and the ABI have issued a warning about click-to-call scammers misrepresenting insurers
Vehicle leasing service Vanarama has warned road users to save insurers' contact details on their mobile to avoid being hit by click-to-call scams, reported Cambridge News.
Click-to-call scams target drivers after an accident. Following a collision or incident, the victim will typically search for their insurer on Google to get the relevant contact details to start their claim.
Many of these popular search terms, however, are paid for by fraudulent claims management companies (CMC), therefore the victim is misled into thinking they are calling their insurer via their mobile's click-to-call function, but instead they are passed to a CMC.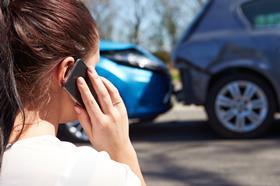 Andy Alderson, Vanarama's founder and chief executive, said: "Motorists should be aware of crash for cash and click-to-call scams, which target drivers when they're at their most vulnerable following a car accident.
"Not only do the public risk losing money from the scams, but they could also receive a fixed penalty of £300 and six penalty points for being caught driving a vehicle they're not insured to drive."
Warning
The Insurance Fraud Bureau (IFB), the City of London Police's Insurance Fraud Enforcement Department (IFED) and the Association of British Insurers (ABI) have issued a warning to the public about click-to-call scammers taking advantage of motorists looking up their insurer's details after an accident.
A spokesperson from the City of London Police's Insurance Fraud Enforcement Department (IFED) said: "Being involved in a collision can be very stressful and it is easy to panic when looking up your insurer's details, as many of us do not have these to hand.
"Although it may be tempting to click on the first link that appears on a search engine, it is important to check that you are clicking through to your insurance company's official website. Dealing with someone who you believe to be your insurer but is not, could end up costing you significantly more."
IFED advised those who do suspect that they have been mistakenly contacted a company that is fraudulently posing as an insurer, to report it to Action Fraud online or call 0300 123 2040.
This information can then be passed onto IFED to follow up any viable lines of enquiry and, if appropriate, launch a criminal investigation.