The strategic move hopes to provide 'lasting benefits' for the network's brokers and clients
Zurich Insurance has joined Hedron Network's insurer panel in a "major coup" - Zurich's addition "significantly enhances" the panel, said Hedron chief executive David Hopwood.
This follows Markel becoming a Hedron panel insurer in June 2021.
According to Hopwood, the new proposition will be "service-led, with the Zurich team working proactively with Hedron Network partner brokers to win business and develop relationships, including Zurich's outbound trading approach on key appetite business".
He continued: "[Zurich] will provide named account managers for our partner brokers, live chat for SME business and a comprehensive range of package offerings for SME available on trading platforms – Zurich Online and Acturis."
Commercial lines products within the proposition include manually traded products, such as casualty, property, motor, construction, energy, engineering and financial lines.
Packaged products include commercial combined, property owner, shop, small fleet, trades and professions, executive risk solutions in mastered limited partnerships (MLP), cargo, personal accident and business travel.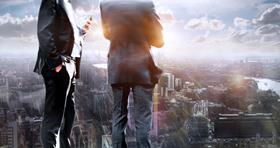 The insurance company's mid-market proposition aims to cater to the varied needs of commercial businesses with an annual turnover above £5m.
Broker benefits
Stating that Zurich's existing relationship as a strategic partner for Global Risk Partners (GRP) was a factor in the insurer choosing to work with the network, Barry Driscoll, UKGI strategic account manager at Zurich Insurance, added: "Traded through our regional network, our products provide a wide breadth of cover as standard, supported by our fully empowered expert underwriters.
"Hedron Network brokers will benefit from Zurich's outbound calling campaigns for all products.
"We will proactively outbound the Hedron members if a quote they self-serve falls into our appetite, underlining our desire to win the business and our commitment to developing the relationship.
"In terms of underwriting service, the best service from SME underwriting is received when the broker self-serves, with us responding to 50% of referrals in under two hours (in May 2021), as an example.
"The brokers can also use live chat or phone us for instant decisions.
"It is a significant move for us, but we believe there are lasting benefits for ourselves, Hedron partner brokers and their clients and we look forward to developing a long and fruitful relationship."
Hedron Network, part of GRP, has over 250 broker members and a further 400 trading partners.