Since March 2020, Zurich has implemented a number of measures for employee wellbeing including the provision of additional free office equipment for safe and effective working from home
Zurich UK is offering two weeks paid leave for its employees who are parents or carers.
It will allow for childcare emergencies or other caring responsibilities after the UK government ordered the latest national lockdown measures as it battles with the surge of coronavirus yet again, the lockdown includes the closure of schools.
Employees with these responsibilities will be allowed to take an additional ten days of paid leave while primary and secondary schools remain shut.
Steve Collinson, Zurich's head of HR, said: "With schools closed, working parents will be frantically trying to juggle their jobs and childcare responsibilities. We already offer flexibility for employees who want to change their working hours or structure some days differently.
"But for parents trying to balance work, childcare and home schooling, this may not be enough."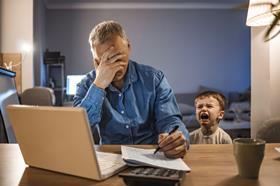 Getting through this crisis
"We're helping our employees get through this crisis by offering mums and dads paid time-off so they can look after their health and their family. This is also available for anyone with other caring commitments," Collinson added.
Meanwhile Zurich has also put a number of measures into action since March 2020 to ensure the wellbeing of its employee, these include:
Free antibody tests for all 4,500 UK staff, their partners and anyone over the age of 18 living at their house;
Car park season tickets refunds for all employees until the offices open again, paid by Zurich;
Option to reduce pension salary sacrifice for the year;
Option to sell holiday back to the company;
Provision of additional free office equipment to ensure safe and effective working from home;
Launch of a wellbeing hub which includes Babylon – a virtual GP provider for all staff and families;
Childcare vouchers reduced to £1;
Emergency loan of up to £750 per person available 72 hours following approval;
Access to Lifeworks which includes access to advice and counselling, well-being assessments and coaching programmes.
Zurich already offers a number of family friendly benefits, some of these include equalised company enhanced elements of maternity, paternity and adoption leave with up to 16 weeks full-pay for all parents, and additional support for families with children are born prematurely.
As well as paid leave to support people that have experienced a miscarriage, a new bereavement and compassionate leave policy and flexible work with 75% enjoying working from home and various sites pre-pandemic.