With Covid-19 accelerating electronic placing in the insurance industry, insurtech Whitespace is on a mission to help brokers and underwriters smoothly transact as its platform business is soaring
Insurtech Whitespace is on a mission to help brokers and underwriters as it attempts to take on the entire digital life cycle of an insurance contract.
After going live with the platform just ten months ago, it is now close to signing its 100th customer, and approximately 90% of the Lloyd's market is already signed up on it, the company said.
It is currently averaging an onboarding rate of one new customer approximately every two working days.
Marcus Broome, Whitespace's chief platform officer told Insurance Times: "It's an extraordinary rate of acquisition, we are getting constant referrals. But we are not stopping at 100."
Last year in August, it had only eight organisations on the platform. "There's no doubt at all that people are looking for easier ways to transact business, all of sudden the traditional way of doing business for now at least [has changed]," he added.
Broome said that electronic placing has been accelerated due to Covid-19 at a much more rapid pace than previously due to social distancing guidelines.
It follows the insurtech signing its first US carrier – GuideOne National to its platform, which came about through one of the carrier's broker customers who was transacting with them at the time and keen do this via the insurtech's platform.
It is currently in talks with the person responsible for Beazley's US debut about its own expansion into the US.
Oiling the wheels of the market
The advantage for brokers using the platform Broome claims is that there is no risk of data leakage.
"Because our contracts are fully data driven, any change that an underwriter makes as part of that negotiation is captured as data and is fully audited and does not get lost. This means that the broker can transact faster and with more security," he said.
But Broome's biggest fear when the insurtech originally launched its platform last year, was that brokers might continue to print.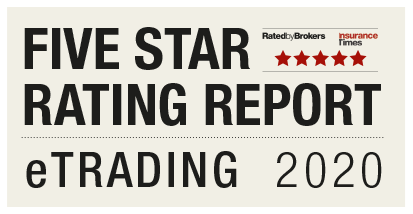 "It was very important to us that the benefit of the platform outweighed any additional effort, so we have made it very easy for them [brokers] to adopt.
"Once they have a book of business on the platform, they can start to clone existing contracts.
"It is an efficiency play – we are very much about oiling the wheels of the market and we do not threaten any broker or underwriter, we are not a dis-intermediator."
Alternative
"Lloyd's original intent for its PPL platform [electronic placing platform] would be the one that everyone would use, but I think we have shown that by delivering a better user experience using technology there is actually a big demand for this stuff," Broome said.
All the businesses that have signed up to Whitespace's platform were already signed up to PPL, highlighting that businesses are prepared to pay twice for an alternative piece of software.
But although the insurtech does everything that PPL does, it differs from Lloyd's version in that PPL is a document-led system with a PDF at the centre of processes. Whitespace's platform is fully digital.
In this way PPL is not completely digital, he added: "Emailing someone a PDF is not electronic placing, in the same way that emailing your bank with a cheque would not be electronic banking."
Broome describes electronic placing as: "the formation of a contract of insurance and the subscription of it in an entirely data-driven fashion".
He said it is a stream of data instead of a succession of documents.
In terms of the PPL platform, sometimes data is keyed into the system post-transaction, whereas Whitespace's platform allows data to be keyed in during the transaction and afterwards.
Lifecycle
The reason for this, Broome said: "We want to address the whole digital life cycle of an insurance policy, there is no point in us creating a digital contract just for the placement of it.
"Our business model is a low-cost placement process because we intend to bring further capabilities to that platform. In time you would expect us to run checks and validations to insurance contracts, able to settle premiums in contracts and able to initiate reinsurance purchases."
In due course it intends to support claims – another area Broome said where mobile scalability is key.
He gave the example of someone filing a claim and doing this via a mobile, "the potential for insurers to be 'in the pocket' of the end customer is something that fascinates us".
Mobile first
Having built a scalable platform and choosing to launch it as an app via Apple due to the tech giant's top security operating systems and ease of use, Broome said the insurtech adopted a mobile-first approach.
"Building in the mobile-first idiom and delivering a consumer-grade user experience into the insurance market, I don't think any one has done that before us," Broome said.
But it has yet to build an Android version.
Whitespace takes feedback from its users on board to ensure it is easy to use for everyone, it also tests rigorously.
However, Broome said that as technology becomes more sophisticated, one challenge is keeping the platform "simple and intuitive".
"We take the blame if someone finds it hard to use. If someone cannot use our software, it's not a mindset thing, it is because our software isn't any good and we need to fix it until everyone can use it," he added.
---
Not subscribed? Become a subscriber and access our premium content