The research revealed that the Covid-19 pandemic was the main reason for using credit, followed by rising premiums
More than half (59%) of SMEs rely on credit to pay for insurance, borrowing on average around £1,105, according to the latest Insurance Index from Premium Credit.
The research further revealed that 9% of SMEs who use credit to pay for insurance have also borrowed more than £3,000 to purchase cover.
Using credit helps firms spread the cost of insurance over a designated time period to ease the financial burden of having to pay it in one lump sum.
Of the businesses surveyed, 21% of SMEs said that they had taken on more credit over the past year for this purpose. On the flipside, 24% had borrowed less and 37% had borrowed the same amount.
The independent research was conducted online and surveyed 745 SME owners and managers between 11 to 16 March 2022. It was conducted by Consumer Intelligence and commissioned by Premium Credit.
Premium Credit's Insurance Index examines insurance buying trends and how policies are financed.
Owen Thomas, Premium Credit's chief sales officer, said: "Credit plays a vital role in ensuring that businesses continue to have the right type and level of insurance that they need across their operations.
"The 100% offer of a finance option by brokers – especially because of the continuing impact of the Covid-19 pandemic on businesses up and down the country – has never been more critical."
The report's release follows Towerbrook announcing that it will be buying Premium Credit.
| TYPE OF INSURANCE | OVERALL PERCENTAGE OF SMES BY INSURANCE USING CREDIT TO PAY FOR THEIR COVER – MARCH 2022 |
| --- | --- |
| Vehicle insurance | 44% |
| Property insurance | 39% |
| Public and product liability | 29% |
| Employer liability insurance | 28% |
| Business interruption insurance | 17% |
| Cyber insurance | 16% |
| Other financial lines | 14% |
| Key man insurance | 11% |
Covid-effect
The ongoing impact of the Covid-19 pandemic was given as the main reason for borrowing behaviour by 43% of SMEs. Cashflow, rising premiums and falling business income were also factors.
Meanwhile, 29% of SMEs blamed rising premiums for taking out credit loans, with around 8% of those that used credit to pay for insurance seeing their premiums increase dramatically in the past year. A further 47% reported slight increases while only 4% have seen premiums drop.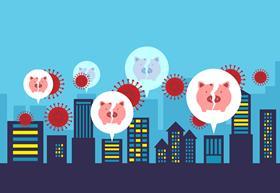 Corresponding premium cost figures from Premium Credit's 2021 October Insurance Index showed a 9% increase. Of those surveyed, 47% reported a slight increase while only 4% reported a decrease.
In comparison to the current research, 50% in October 2021's Insurance Index blamed the pandemic for borrowing behaviour, while 31% blamed rising premiums. Figures from April's 2021 Index were 73% and 36% respectively.
To combat this, 20% of SMEs have made cuts to their business to reduce costs – 14% say they have increased their claims excess and 15% have reduced their level of investment in operations.
Moreover, 14% have reduced their level of insurance cover, 11% have cut salaries and 8% have also closed parts of their business. A further 32% said they had taken no action.
In terms of the credit being used, 41% of businesses reported using credit cards while 34% are using premium finance or finance provided by insurers.
More than a quarter (22%) of SMEs have taken out personal or business loans to fund insurance while 10% have turned to friends and family for finance to pay for insurance.
With regards to claims, 12% of firms said that they have suffered damage to property or belongings over the past five years and were unable to claim for this because they didn't have cover or were underinsured.