Allianz's existing telematics customers span Italy, Spain, Switzerland, Netherlands, Czech Republic, Greece, UK, Belgium, China
Allianz is looking to expand its telematics across new locations following the success of global projects including Marmalade in the UK.
This is according to Jacob Abboud, Allianz's chief information officer, speaking at Insurance 2025 on Tuesday.
The firm has identified Poland, Russia, Brazil, Turkey, Germany, France, Australia, Philippines, Thailand, Malaysia and the United Arab Emirates (UAE) as potential markets.
Additional projects in the roll-out include, Italy, Austria, Ireland, and Greece.
Abboud said the roll out would build on successful partnership with Marmalade. Allianz has been the sole underwriter of its New Driver Insurance policy since 2013.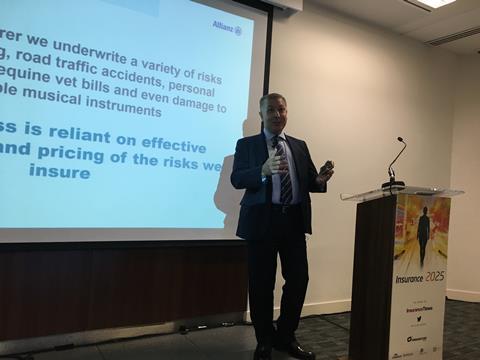 The platform enables partners to adapt Internet of Things (IoT) value propositions, services and modules to suit the market.
The benefits of using such a system were better fraud protection, accident reports and scoring algorithms, similar to what telematics provider Insurethebox does using positive driver data to predict premiums or even cancel a policy due to poor driving.
Allianz's existing telematics customers span Italy, Spain, Switzerland, Netherlands, Czech Republic, Greece, UK, Belgium, China.
Abboud said: "We need to be able to mitigate risk as part of the business plan."
He added: "Fraudsters are getting more and more sophisticated in what they do, they do target the vulnerabilities within our business and we need to understand where these are using predictive analysis enabling us to identify patterns in fraudulent activity and prevent any leakage.
"Market monitoring, looking at emerging technologies and new entrants to the market and finally it's about developing talent and expertise to able to unlock the value from this data is critical."
Abboud explained that there were various reasons as to why "technical excellence" was important for the firm-namely pricing sophistication in deployment, data insight and analysis and the ability to understand the changing risk within the business.
The partnership between Marmalade and Allianz was extended last year in December, seeing it make use of Allianz's Global Connected Car platform, with Marmalade becoming the first broker to integrate with Allianz Group Technology.
Allianz launched the new Marmalade product last year in November as part of expanding the roll out of the suite of products across the EU and beyond.
He said: "We are I guess at the heart of our platform investment in developing our global data and analytics capabilities to enable technical excellence and build those global assets that we can use across the group."
Abboud characterized three areas for this-having a scalable global ecosystem supported by the right technology, having the relevant tools to be able to analyse data effectively and therefore manage and maintain it.
He said: "In motor we use telematics to be able to assess the behavior of a driver, to be able to predict and assess their future behavior. We combine that data with the road conditions and the neighborhood where they live and drive and then you are able to optimise the pricing for a given risk."
Last year the platform collected approximtely 14bn km of driving knowledge.
Subscribers read more
Data firms offer solutions for a fairer telematics future