Poor usability of the OIC portal and solicitors' cherry-picking cases has left claimants in a vicious circle
Brokers and legal expenses insurance (LEI) providers now have a "fantastic opportunity" to "bridge the access to justice gap" for personal injury claimants, especially those using the Official Injury Claim (OIC) portal, said the Association of Consumer Support Organisations (ACSO) executive director Matthew Maxwell Scott.
The OIC portal forms part of the Civil Liability Act (CLA), which gained Royal Assent in December 2018. After several delays, the portal was launched on 31 May 2021, increasing the small claims court track limit for personal injury (PI) claims from £1,000 up to £5,000.
As a result, solicitors are cherry-picking cases due to the act's impact on motor expenses because "the amount of work required to still pursue and process those claims is relatively high compared to the damages that those claimants will be receiving [now]", said Arag underwriting and marketing director David Haynes.
"We are seeing consolidation of solicitors and lawyers looking at the higher end of PI, rather than specialising in those low value claims," he added.
Despite the OIC portal being designed for use by litigants in person (LiP), defined as an unrepresented or self-represented party in court, Insurance Times reported in July 2021 that LiPs were having "issues uploading and initiating claims", leading to a "vast majority" seeking representation by mainstream claimant lawyers.
This view is supported by the first batch of data from the OIC portal itself, published by the Minstry of Justice in October 2021. This found that 45,718 claims were reported on the OIC portal between 31 May and 31 August 2021. Out of this number, 41,387 claimants were represented, as opposed to 4,331 who were unrepresented.
Maxwell Scott and Haynes were speaking as part of a webinar in association with the Managing General Agents' Association (MGAA), titled 'The changing world of civil justice and the impact upon consumers'. Held on 11 November 2021, the session was chaired by the MGAA's head of operations Julia Coakley.
So, where can brokers and insurance providers look to fill this "justice gap"?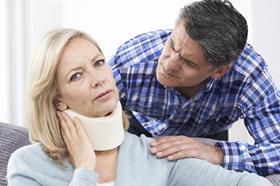 Awareness
Maxwell Scott said: "Rich people can always afford lawyers, poor people can never afford lawyers and an awful lot of people in the middle really do need a good product to enable them to still get access to legal support, but without extreme costs. LEI products and others are definitely part of the solution".
For Maxwell Scott, the benefit of LEI is more than just covering expenses.
ACSO's executive director highlighted that "most people would seek the support of law firms" while navigating the OIC portal because "even a heavily simplified legal process is still complex".
He added: "[Policyholders] have got a three-year limitation period to make a claim. The majority of whiplash style cases, symptoms are gone within nine months to a year, but during that period you can suffer considerable discomfort and loss of amenity."
Maxwell Scott noted that consumers are now more likely to be open to "the whole package" surrounding LEI, rather than just focusing on "general damages", because insureds may be "slightly less price sensitive" following the drive for high quality and fair value in the insurance sector, highlighted by the FCA's recent pricing reform.
Added value over price
It is the insurance industry's price-centric past that has hampered the growth of LEI, added Haynes.
He explained: "Over the past few years we've seen a decline in the purchase of legal expenses [insurance], mainly because of the increase in the likes of the aggregators [that] are selling mainly on price and therefore add-ons are often not taken up at that stage and are left really for people to opt in and not have the opportunity to have the cover explained to them.
"We are very conscious of that and that's why a lot of add-on products don't just provide legal insurance – they provide helplines, legal documents and [advice] - and that's really important."
Haynes emphasised that brokers should raise awareness of LEI products, as well as check the small print of motor LEI policies to determine what it covers and how it will react in all situations.
He added: "It's clearly more important than ever now that clients buy legal expenses [insurance] and have this cover up their sleeves, so that in the event that they do need it, they can get represented expertly and they don't lose damages".