Tesla-targeted policy takes data directly from the car to price insurance
London-based insurance broker By Miles has launched a connected car policy aimed at saving Tesla drivers hundreds of pounds.
The firm claims it is the first to take data directly from a car, without the use of a fitted black box or smartphone app. Instead, By Miles takes mileage information directly from Teslas and uses it to price insurance.
The cover has been specifically designed for Teslas, offering owners that drive under 7,000 miles a year the chance to save hundreds of pounds on their annual car insurance.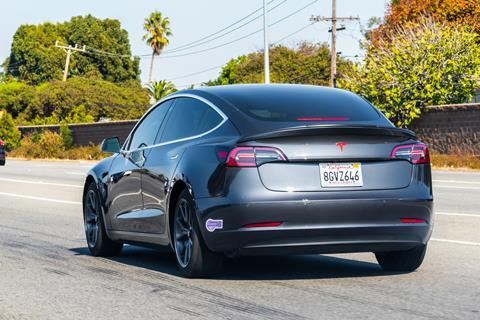 By Miles has partnered with insurer La Parisienne Assurances to do this, which is backed by Swiss Re.
Olivier Jaillon, chief enablement officer of La Parisienne, said: "As an industry leader in innovation, we need to stay ahead of the game and create the insurance of tomorrow.
"Working with By Miles to create a really impactful and transparent product that will change the insurance landscape just made sense."
'Raw deal'
James Blackham, co-founder at By Miles, added: "Tesla drivers have been getting a raw deal on car insurance, mostly because the old-fashioned big insurers don't understand their cars. But we think Tesla owners should be rewarded for making an eco-friendly choice.
"We're offering UK Tesla owners who drive less than 7,000 miles a year the opportunity for fairer, more flexible premiums and a host of added extras that will do away with the many inconveniences the insurance industry inflicts on owners of connected or electric cars.
"Electric and connected cars are the future. The insurance industry needs to catch up and launch policies as smart as the cars themselves."
According to By Miles, Tesla model three owners have limited and expensive options regarding car insurance that are not always fit for purpose, with many customers being quoted policies at over £2,000 a year.
More than 2,000 Teslas were sold in the UK in August 2019, making Tesla model three the UK's third best-selling new car that month.
Meanwhile one in 10 new cars sold are now electric – a new milestone for the UK.
Blackham said: "We're going totally tracker-less." He explained that By Miles's usage-based policy is capable of adapting to the specific needs of each driver.
How it works?
Users simply connect their Tesla with their By Miles account by logging in, which activates the policy. Benefits of the cover include pay-per-mile insurance and an electric-first policy coverage that insures damage or theft of charging cables, accessories or batteries; this is not typically included in standard motor insurance.
The policy also includes 'Find my Tesla', which is a tracking system that allows By Mile's specialist claims team to track a stolen vehicle. Policy holders additionally have access to official Tesla repairs and parts for five years.
Simon Pardo, a customer from Surrey that has been trialling By Miles's connected car policy with his Tesla Model S for the last few months, said: "It's not always been easy getting sensibly-priced insurance for Teslas in the UK, so when I heard that By Miles were launching a new policy, I was excited to try it out. Connecting my Tesla to the policy was really easy and I've enjoyed keeping track of my daily miles. It makes my current car insurance look very old fashioned."
Subscribers read more
Tesla insurance: The beginning of the end for selling motor cover