As bicycle sales rise, insurers have a key opportunity to increase the uptake of this kind of cover in the UK
Bicycle sales have soared during the Covid-19 lockdown period, yet less than 1% of consumers are thought to have bicycle insurance.
This represents a clear opportunity for insurers to take a bite of this market, according to GlobalData.
Its UK Insurance Consumer Survey revealed that 9.0% of Londoners have bought a bike since the pandemic began, compared to 4.8% of overall UK consumers.
Partnerships
GlobalData's insurance analyst Yasha Kuruvilla suggested that insurance providers should form partnerships with cycle-to-work schemes that provide a tax-efficient way of purchasing bikes, as they will become a more attractive benefit as businesses reopen offices and look for ways to keep their employees safe.
"It is expected that individuals will not rush back to public transport and government investment will see cycling remain popular beyond lockdown," Kuruvilla said.
He explained that as offices reopen, more people will cycle to work to avoid congested public transport over fears of contracting the virus.
"This will be most popular in cities where the distance between home and work is more manageable.
"This has prompted bicycle insurance providers to offer attractive deals during the pandemic. [Insurtech] Laka is offering third-party liability bike insurance for £1 per month until the end of the year, while Cycleplan is offering a 50% discount to NHS workers."
Growth opportunity
Meanwhile, GlobalData's UK SME Insurance Survey show that SMEs increased their use of the Cycle to Work scheme between 2017 and 2019
A total of 35% of SMEs offered the scheme to either all employees or management only in 2019, compared to 24% in 2017.
It also showed that take up of one-off item insurance for bikes in the UK grew from 5.9% in 2018 to 9.8% in 2019.
This also demonstrates a rise in demand but that there is still a huge opportunity for growth for insurers.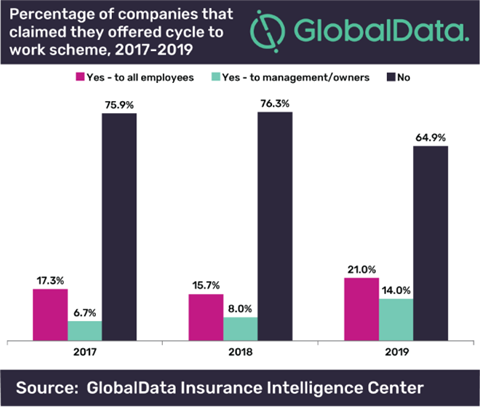 GlobalData insurance analyst, Ben Carey-Evans, said: "This shows that interest in the scheme, and cycling as a means of transport, was already gathering momentum.
"However, it also shows that a considerable percentage (64.9%) still didn't offer the scheme to any employees.
"People will be very wary about returning to work while the virus is still around and providing encouragement and funding for employees to cycle to work could be one way to reduce that concern.
"Employers can look to make offices as safe as possible, but the issue for many employees will be busy commutes to and from work, where social distancing is not feasible."
For example, insurtech Urban Jungle saw a 60% uptick in bike insurance enquiries in May 2020.
Prior to the lockdown in February, Allianz Partners entered the bicycle insurance market.
Carey-Evans added; "The key for insurers will be to make it as easy as possible for customers, whether it is as an add-on to home contents policies or a standalone insurance product.
"It looks to be a strong area of opportunity for insurers, and digital startups like Urban Jungle are well placed to capitalise."
---
Not subscribed? Become a subscriber and access our premium content