New research from Safe found that claims have fallen by 69% during the lockdown period
UK motor insurers have saved a total of £1.3bn as a result of reduced claims during the lockdown, according to new research from Safe.
The comparison site found that claims across the UK had dropped by 69% during the lockdown imposed by the government to fight the Covid-19 outbreak, meaning that insurers have paid out £569m in claims, compared to the normal expected payout of £1.9bn.
London experienced the biggest drop in claims, with the amount paid out by insurers in the capital dropping by 82%, equal to a £204.4m saving for insurers.
The North East, meanwhile, experienced the smallest drop in claims, with claims amounts falling by just 57%.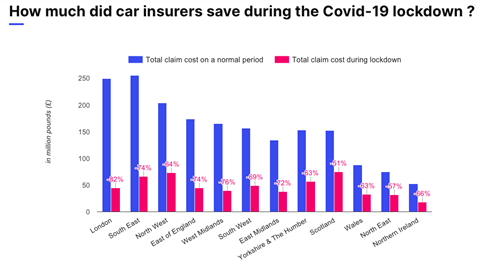 Some insurers have already implemented refund schemes to take account of the reduction in risk.
Admiral led the way with a £110m initiative that included a £25 refund to each of its car and van insurance customers, with LV= following suit when it decided to refund up to £50 to customer hit hardest by the Covid-19 crisis.
Other insurance companies are also planning to refund customers that were specifically affected by the pandemic, such as those who lost their jobs or were placed on a government furlough scheme by their employer.
And Safe chief executive Antoine Fruchard said that consumers could also expect a drop in premiums as a result of increased competition between insurers once everyone is back on the road again.
"Now that the lockdown is over and people are going out again, the number of cars on the road could soon be back at pre-Covid levels," he said. "However, it is likely that customers will question why they continued to pay such high insurance premiums while they weren't able to drive. It will be interesting to see if all the insurance companies will make refunds.
"Competition between them may be increasing in the coming months, and that means customers should see a slight drop in car insurance premiums".