Car theft claims rose by 27% in 2018, as criminals find new ways of hacking into high-end cars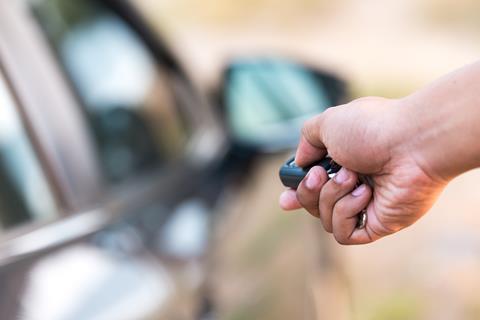 Thatcham Research has rated six out of 11 new cars launched in 2019 as poor for security due to keyless entry/start vulnerability.
This is because they have no security measures to prevent theft by criminals using the so-called relay attack technique.
"We've seen too many examples of cars being stolen in seconds from driveways," said Richard Billyeald, chief technical officer at Thatcham Research. "Security has come a long way since vehicle crime peaked in the early 1990s. But the layers of security added over the years count for nothing when they can be circumvented instantly by criminals using digital devices."
Vehicles vulnerable to the relay attack tend to be newer, more expensive cars. According to crime statistics, vehicle thefts are at their highest level for a decade (at more than 110,000 in 2017/18) with insurers paying out a record £376m for car theft in 2018, up by over a quarter on the previous year.
However, progress on tackling this keyless vulnerability is starting to be made by carmakers. Billyeald added: "The latest Audi e-tron, Jaguar XE, Land Rover Evoque and Mercedes B-Class were all awarded 'Superior' ratings for security. These carmakers have addressed the keyless entry/start vulnerability by either switching to a more secure wireless technology or introducing key fobs that go to sleep when idle.
"There are solutions and fixes. All carmakers should be acting ASAP."
The Relay Attack
The relay attack is a technique used to exploit passive keyless entry systems, which allow drivers to open and start their cars without removing the key fob from their pocket. Usually operating in pairs, one criminal will hold a device up against the car, to capture the signal it sends out to the key. It then 'boosts' this signal to another device by the front wall of the house, which relays the signal to the key inside. This fools the car and key into thinking they are within the 2m range of operation, allowing the car to be unlocked and started. Once started the engine will not restart without the key present.
Thatcham has subsequently offered consumers advice to minimise their risk of being a victm of keyless car theft. This includes keeping the keyless entry fob away from household entry points and keeping keys in a metal signal blocking box.
Allianz's chief claims officer and Thatcham chairman Graham Gibson said: "Car theft is well and truly back and it's costing insurers millions of pounds and causing our customers considerable inconvenience and in some cases real emotional stress.
"In the face of a challenge caused by modern technology it's ironic that reverting back to old fashioned sensible precautions like fitting a steering lock could prevent a car being stolen."
The ABI believes Thatcham's scoring system will encourage manufacturers to do more to tackle this high-tech vulnerability.
"Consumers deserve to know how secure their cars are so they can take the necessary steps to reduce the likelihood that they become victims of crime," said ABI policy adviser Laurenz Gerger.
Subscribers read more
Analysis: Has Admiral lost its shine?