The insurer says that the average storm claim cost is £2,600
Insurer LV= has paid out nearly £10m in storm damage claims this year to its general insurance customers, which is almost double the amount claimed for storm damage in 2019.
LV= attributed these high claims payouts to storms that hit the UK in the latter half of 2019, as well as storms that have blighted the UK this year – this includes Storm Ciara in February, where LV=GI paid out £3.2m in claims.
Also in February was Storm Dennis, which saw LV=GI pay out £1.7m to policyholders for storm damage claims. Storm Brendan in January saw claims amounting to £471,000, while Storms Jorge, Ellen and Francis also generated £50,000 to £60,000 worth of claims each, said LV=.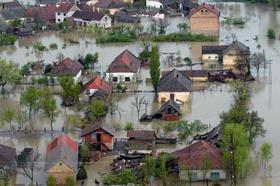 The average cost of a storm damage claim in these cases was £2,600.
Claims made for storm damage included the loss of roof tiles, water penetration, guttering and chimney stack damage, damage to walls and outbuildings and damage caused by or to garden equipment, including damage caused by trampolines.
Storm ready
LV= reported that York suffered the most damage from 2020's storms, accounting for 13.8% of all claims received by the insurer.
This was followed by Wolverhampton (12.2%), Tunbridge Wells (8%), Warrington (7.9%) and Wakefield (6.6%).
Research from LV= further showed that one in three homeowners are unprepared for storms, while 22% expect wear and tear damage to covered as standard on their home insurance policy.
Martin Milliner, claims director at LV= GI, said: "Storms can cause devastating damage to anyone's home and their unpredictable nature mean they can appear anywhere, at anytime.
"This year has been particularly bad, but I'm pleased we've been able to help thousands of our customers who have suffered damage to their property.
"It's really important, especially as we move into winter and the heightened risk of storms, that homeowners check their property to make sure it's storm ready, ensure they have the right level of cover and are aware of what is and isn't included in their policy, if in the unfortunate event they need to make a claim."