There were some lucky double winners and some firms picked up their very first Insurance Times Claims Excellence Award at our hottest awards so far – was it you?
Last night (25 May 2023) saw Insurance Times return to the glamorous five-star luxury Royal Garden Hotel on Kensington High Street for this year's Claims Excellence Awards – and it was an eventful night.
Some of the brightest stars in the claims industry gathered under one roof on a hot evening in May, which saw the return of familiar faces as well as some new ones – but who walked away with a trophy?
Over the course of the evening, 20 awards were up for grabs, each recognising claims excellence – and, in fact, our awards were so hot, we set off a fire alarm.
Our awards were so hot that it set off the fire alarm 🔥 We're due to get underway again shortly... #ITClaimsAwards

— Insurance Times (@InsuranceTimes_) May 25, 2023
Kicking off the celebration was acting editor Yiannis Kotoulas,who said: "Claims are the touchpoint between the insurance sector and its customers – when policyholders find out what they have paid their premiums for and companies' reputations are built or broken.
"The work that everyone sat in this room performs so tirelessly to serve their customers is the foundation of everything insurance does to support people and wider society.
"This is why Insurance Times believes it is so important to recognise the best-in-class service, innovation and quality of the claims sector."
Meanwhile, award-winning comedian and TV entertainer Zoe Lyons played host – Lyons is best known for Michael McIntyre's Comedy Roadshow, Mock the Week and Live at the Apollo.
Well, you don't usually expect to spend an awards ceremony on the street! But, glad we grabbed the wine and rum as we evacuated! @zoelyons was fabulous, from Table 30, the only ones to blow out the candles! We should get the fire safety award! #ITClaimsAwards pic.twitter.com/Tq36mrnYCG

— Ellie Mileham (@EllieMileham) May 25, 2023
Claims Champion of the Year, the most prestigious award of the night, was sponsored by Innovation Group and recognised an "outstanding individual making a major contribution to general insurance (GI) claims."
The award was announced by John Watson, Innovation Group's managing director, and went to Glenn Stevens from Hiscox UK.
Stevens was crowned Claims Champion from a list of five other nominated finalists in this category that included Hannah Anderson from Trinity Claims, Laure Andre from ETA Insurance, Billy Hinken from Pen Underwriting, Jodie Kay from Auger and Phil Maxwell from Unicorn Underwriting.
In a post on LinkedIn following his win, Stevens said: "Honoured to have been recognised. As a Tottenham fan, one let alone two trophies in a year feels somewhat alien. Thanks to all my colleagues for the nominations and thanks to my wider network for the messages."
Insurance Times would like to thank the judges of the Claims Excellence Awards as well as the sponsors – Hiscox, Innovation Group, LexisNexis and RDT.
Going for gold
As the evening got underway several lucky winners bagged multiple awards.
The first gold award of the evening for Claims Achievement went to joint winners Lloyd's and Vitesse, which the judges described as having "showed focus on innovation".
Lloyd's and Vitesse also bagged a highly commended for Claims Service Solution of the Year – Insurer/Broker.
Meanwhile, pipping them to the post was Marsh – the broker won the gold in this category for "being revolutionary in its approach" when assisting clients with the impacts of a cyber attack.
Romero Insurance Brokers also won two awards – firstly for Claims Achievement Award – Broker, sponsored by Hiscox. The judges said that the entry "went above and beyond the usual call of duty." Meanwhile, a joint entry from EIS and Esure was highly commended in this category.
Claims Team of the Year – Broker also went to Romero Group, after impressing the judges with its claims proposition and full "cradle to grave approach".
Sedgwick also scored two wins – firstly for Claims Product Solution of the Year – Claims Management, for which Sedgwick entered a joint entry with Typhoon. The judges thought the entry was a "game changing digital initiative" for low value household flooring claims, which saw 80% settled in 10 minutes via artificial intelligence.
Nicola Dryden, chief client officer at Sedgwick, said: "We are delighted to have won both awards last night. We could not have done it without our clients.
"These awards further highlight the excellent work that Sedgwick is doing with our clients and brilliant staff".
Later on, a highly commended went to a joint submission from Sedgwick and Simply Business.
Charles Taylor took home two awards – a gold for Third Party Claims Management Team of the Year, sponsored by LexisNexis, went to Charles Taylor's Ukraine team for an "important, impressive and standout submission" dealing with the Ukraine crisis.
Richard Yerbury, Charles Taylor Adjusting chief executive said: "Every day at Charles Taylor our adjusting teams deal with the most complex losses and difficult situations on behalf of our clients. Despite this, the terrible conflict in Ukraine and the damage to our clients' assets in the country represented unprecedented and uniquely challenging circumstances, that required an exceptional solution."
Yerbury explained that the firm's team "undertook in-person visits to loss sites where safe to do so – itself a difficult logistical exercise – plus unique triangulation and analysis of multiple data sources to assess damage to assets in Russian-occupied areas".
Charles Taylor was also highly commended in another category – Fraud Solution of the Year, while Horwich Farrelly picked up a gold for "an impressive solution that equates to savings of £17.5m."
The gold award for Claims Product Solution of the Year – London Market went to Brit for its "use of machine learning and aerial imagery to accurately identify losses".
Brit picked up a second win on the night, for Commercial Lines Claims Excellence because the insurer's entry made "great use of technology to tackle delays and inefficiencies" when helping customers in serious distress.
Meanwhile, Blink Parametric and CPP Group walked away with two gold awards also, one for Claims Product Solution of the Year – Technology Supplier for "an impressive tool for a niche in the market that delivers real benefits for the customer".
The pair also scored a second gold for Customer Care Solution of the Year – Supplier for "a lost luggage solution that addresses a real problem".
Carl Carter, chief commercial officer at Blink Parametric said: "What a momentous night. Thank you to Insurance Times, the judges and all of the finalists – the entire event was a showcase for exceptional insurance innovation. To win in two hugely competitive categories is a great honour. We are so proud of the team effort and the support of our global travel insurance partners that allow us to deliver real-time flight disruption and lost luggage solutions.
"We equally appreciate the opportunity that these Awards give us to tell the world about how world-class insurtech innovation delivered through our parametric platform can support the travelling public with real-time assistance and claims resolution when they need it."
Still winning
Meanwhile, Claims Product Solution of the Year – Insurer was snapped up by Ecclesiastical Insurance, which won over the judges by explaining how the the insurer overcame many obstacles to create a solution for a specialist commercial market.
Meanwhile, ARMD Limited were awarded the highly commended in this category.
Jeremy Trott, claims director at Ecclesiastical Insurance, said: "Our company embraces innovation to not only improve our technical performance but also enhance both the customer and handler experience.
"We know based on our own satisfaction surveys that we provide customers and brokers with an excellent service, but to receive this independent reinforcement of that is always good and I'm really proud of the team. We have ambitious goals for the business and to be known throughout the sector as a leading claims service provider. I am determined to continue to improve our performance levels to help our business grow while providing customers with the top quality service they've come to expect."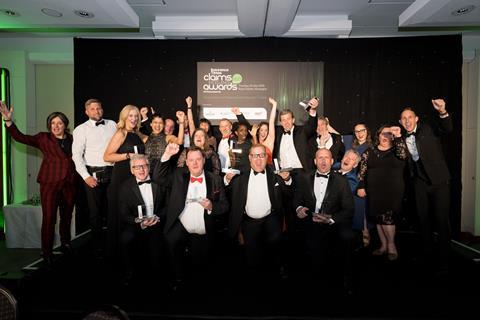 VisionTrack nabbed a gold Claims Product Solution of the Year – Motor award for "an effective way to sift through a mountain of data" using telematics.
Next up, the gold for Claims Service Solution of the Year – Claims Management/Law Firms went to GHG Solutions Limited as its "blend of technology and human resources" added to the customer experience and clearly wowed the judges".
One the flipside, the award for Claims Team of the Year – Insurer, sponsored by RDT, went to Aviva's counter fraud team for a "truly outstanding" entry in a very competitive field, according to the judges. Meanwhile, Vetsure was awarded the highly commended in this category.
The gold for Claims Training Excellence award went to Clegg Gifford and Co for a "passionate presentation," according to the judges who were blown away by the apprenticeship programme's outreach.
A spokesperson for Clegg Gifford said: "We are overjoyed to have won recognition for [our] brilliant training programme. The massive investment in our award-winning apprenticeship scheme, alongside our enhanced claims training package, shows how seriously we take claims as a key part of our proposition."
Bridgetech Automotive won the gold for Credit Hire Solution of the Year for a "innovative yet simple approach" that helps protect the insurer's position ahead of time.
Meanwhile, FloodFlash picked up a gold for Customer Care Solution of the Year – Insurer after the MGA impressed the judges with its product's "robust fraud detection".
Nyasha Kuwana, FloodFlash head of product said: "Parametric insurance is experiencing a boom but is still new to many. Its important that our customers and our partners have full trust in the technology and processes we use to pay claims quickly."
Lastly, Indemnity Legal went home with the gold for Legal Claims Management Team of the Year for a "fresh and collaborative approach to solving a long-standing industry problem".