The results for this year's personal lines five star ratings are in - two insurers have trumped the competition to achieve five stars each, but can you guess who they are?
Covéa Insurance and Hiscox have come out top in the Insurance Times personal lines broker survey.
These two insurers were awarded the maximum five stars for service in personal lines insurance.
Brokers from the across the UK rated their personal lines insurance partners across five key service areas listed below. Covéa topped the rankings with a market-leading score of 4.37 out of five.
Meanwhile Hiscox was narrowly behind with a high score of 4.21 out of five.
Brokers rated insurers on each of the following service areas:
• Overall claims experience.
• Overall policy documentation.
• Overall quality of cover.
• Overall relationship management.
• Overall underwriting experience.
Covéa and Hiscox were the only insurers to be awarded five stars out of a field that also included Zurich, AXA, LV=, Ageas, Aviva and RSA.
Subscribers will be able to look at the full Five Star Personal Lines Ratings Report 2021 today (8 February) on the Insurance Times website.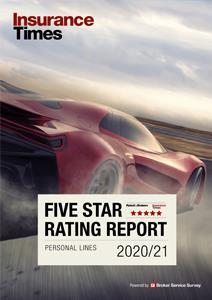 Insurance Times head of research Savan Shah said that Covéa and Hiscox's five-star performances were based on real-life reviews by brokers, who have first-hand experience of placing business with insurers.
This is the third consecutive year that Covéa has achieved the maximum overall five-star rating from brokers. This was reflected in their positive comments about the insurer's strong relationship management approach, competitive cover and client-friendly documentation.
After achieving a high four-star rating from brokers for two years in a row, Hiscox upped the ante this year to receive five stars. In particular, brokers liked the insurer's flexible and honest underwriting approach, as well as its wide and competitive cover.
Brokers also highlighted several areas where they would like to see improvements, as is the case with all insurers involved in the survey.
"I'd like to thank all the brokers who took part. We know that insurers take the survey seriously and strive to improve using the feedback that you give," Shah added.
Here are a few examples of the feedback received from brokers regarding the two five-star personal lines providers:
One broker based in the North West of England said of Covéa's overall service: "Strong relationship - quick to respond and willingness to support broker channel. Very customer centric organisation."

One broker based in Yorkshire and the Humber said of Hiscox's overall service: "Exceptional product and value for money, especially when it comes to making a claim."

The Five Star Personal Lines Ratings Report provides an overview of how personal lines insurers performed amongst broker partners in key service areas pivotal to a successful partnership.
The report includes overall star ratings, in-depth company profiles and results, five-year trends and analysis, regional broker challenges, how brokers see the personal lines industry developing in the future and much more.
For further in-depth analysis from the Insurance Times Personal Lines Five Star Data Insight Book, including broker segmentation in five key groups and extensive broker feedback, please contact fivestar@insurancetimes.co.uk or jack.thomson@insurancetimes.co.uk.
Next month, Insurance Times will launch its Commercial Lines Five Star Report. Click here to see last year's ratings.