Around 24% of respondents believe their cash flow might shrink
SMEs have shown growing optimism about their general recovery from the Covid-19 crisis, according to new research by premium finance firm Premium Credit.
Its research, which saw Consumer Intelligence survey 737 SME owners and managers between 1 and 5 October 2021, found that 61% of small businesses expected to see their income increase moving forward - 36% of respondents predict their income will grow over the next 12 months in particular, while 12% expect to see double digit revenue growth.
A third (33%) attributed this income boost to launching new products and services, while 31% said it had implemented cost cutting measures. A further 29% of respondents expect income to grow because their firm has entered new markets.
In comparison, 24% of SMEs anticipate a dip in income.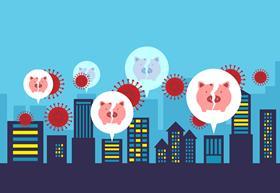 Owen Thomas, Premium Credit's chief sales officer, said: "It is good to see that overall business confidence is increasing.
"However, SMEs still face many challenges and even though average revenues are expected to increase, only 21% of businesses anticipate their cash flow will increase over the next 12 months as they look to invest in their operations.
"One in four (24%) say their cash flow will shrink."
Managing finances
Of the businesses expecting a fall in revenue, 39% attributed this to the ongoing effects of the Covid-19 pandemic.
Whereas 31% noted that anticipated revenue decreases were due to a shrinking client base, while 29% said they were struggling to source suppliers. Just under a quarter (23%) put expected revenue drops down to being unable to fill job vacancies.
Thomas added: "Premium finance is a very cost effective way for businesses to buy insurance and better manage their finances and cash flow through spreading payments.
"Demand for premium finance amongst SMEs could remain high because our Insurance Index, which monitors insurance buying and how it is financed, reveals that 59% of SMEs are relying on credit to pay for their insurance, borrowing on average around £1,832.
"Some 16% of SMEs claim to be using over £3,000 of credit a year to buy their cover."