The pandemic caused 14.7% of respondents to cancel their employers' liability policies in 2020, according to GlobalData
A rise in cancellations and switching instigated by the Covid-19 pandemic has hit employers' liability cover.
This is according to GlobalData's 2020 UK SME Insurance Survey, which found that the pandemic caused 14.7% of respondents to cancel their employers' liability policies in 2020.
And that 58.7% of those who switched employers' liability providers in 2020 did so because of the pandemic.
Employers' liability insurance safeguards businesses against legal and compensation expenses from employee claims, it protects firms if employees fall ill or sustains an injury at work.
In addition to this, 34.8% said that Covid-19 was a contributing factor but not the only reason, meanwhile 23.9% switched because the pandemic.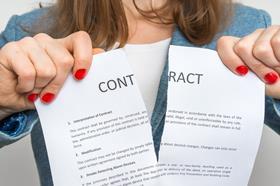 Ben Carey-Evans, insurance analyst at GlobalData, said: "Employers' liability insurance is a legal requirement for businesses in the UK, so SMEs cannot cancel it as a cost-cutting measure just because budgets are squeezed.
"However, other factors arising from the pandemic – such as rising unemployment and increasing company liquidations – mean the size of the market for employers' liability insurers will shrink."
The data and analytics company has warned that more disruption in this line may follow next year, as the economic impact unwinds.
Tough 2021
Carey-Evans added: "This will trigger more Covid-19-related cancellations of employers' liability policies.
"Therefore, commercial insurers need to prepare for a tough 2021 – even as we continue to see positive news regarding vaccinations."
With the UK's furlough scheme is set to continue until March 31, 2021, companies not looking to make redundancies can reduce the cost of employers' liability and delay renewals, until staff return to the workplace.
The Office for Budget Responsibility predicts that the unemployment rate will hit 7.5% in the middle of 2021, once the furlough scheme ends.