EV registrations are rising sharply and Thatcham Research believes adoption will continue to increase
Motor insurers' automotive research centre Thatcham Research has launched an electric vehicle (EV) training programme, which it believes will be essential to the future success of insurance firms, claims management organisations and businesses in the fleet, salvage, recovery and vehicle auction sectors.
The blended learning programme will support the need for automotive businesses and employees to learn how to interact with EVs safely - this is particularly important within insurer' repair networks, when dealing with motor claims.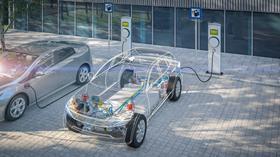 Dean Lander, Thatcham Research's head of repair sector services, said: "New EV registrations are rising sharply. Adoption will only continue to increase, so it is imperative that businesses know how to interact with these vehicles safely and efficiently.
"It's about knowing how to identify the technology and being familiar with working voltages and equipment, vehicle design, components and repair, as well as understanding the health and safety requirements.
"Our EV Ready training programme provides tailored learning to all employees. The objective is to boost understanding at every stage in the customer journey and ensure that everyone who encounters an EV has the correct knowledge to do their job safely."
This follows the UK government's decision to bring forward its ban on the sale of new petrol and diesel cars to 2030, subsequently increasing consumer demand for zero emission vehicles.
Lander added: "There are many challenges to overcome before a sustainable repair ecosystem can be created.
"Chief amongst them is an urgent need to equip repair businesses with knowledge and skills, supporting an EV repair framework that meets consumer expectation and allows the benefits of the EV revolution to be realised."