Global law firm says that despite the challenges of the last 18 months 'the insurance industry has responded well'
The UK is the leading European country for mergers and acquisitions (M&A) within the insurance sector, according to law firm Clyde and Co's latest Insurance Growth Report, published today (24 August 2021).
It was the second most active country for M&A worldwide - behind the US, but ahead of Spain and Germany.
The Insurance Growth Report measured completed M&A deals in the global insurance industry between 2009 and 30 June 2021.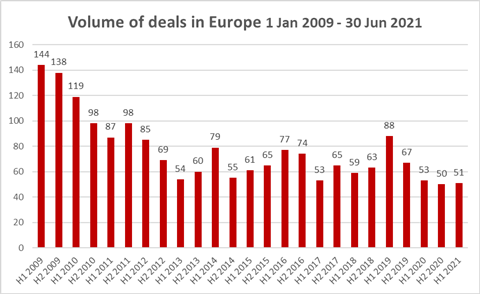 Driven by robust activity in the US, the Americas was the most active region for M&A transactions, clocking up 116 deals in the first half of 2021 compared to 102 deals in the second half of 2020, the report found.
This pushed M&A in the region to its highest level since 2015.
Meanwhile, after a steep drop in transactions in H2 2020, Europe held steady in H1 2021 with 51 completed M&A deals, up from 50 in the previous six-month period.
Overall M&A in the global insurance industry dropped slightly in the first half of 2021, with 197 completed deals worldwide - this is a 2.9% decrease compared to the 206 deals that were completed by H2 2020.
Ivor Edwards, partner and European head of the corporate insurance group at Clyde and Co, said: "Despite the challenges of the last 18 months, the insurance industry has responded well and demonstrated a remarkable degree of resilience when it comes to getting deals over the line.
"Market hardening is creating organic growth opportunities for reinsurance carriers, but the availability of cheap liquidity, active interest from private equity investors and strategic re-underwriting of portfolios at larger carriers signal that an uptick in M&A is likely."
Today's report follows the law firm's previous publication back in February, which forecast that M&A activity was set to soar in 2021.
Business divestments
M&A deal activity in Europe has continued steadily at a comparatively low level for a couple of years, however businesses are now looking at the structure of their companies in order to fuel acquisitional growth.
Eva-Maria Barbosa, partner at Clyde and Co, said: "The high number of life insurers and composite carriers facing stringent capital requirements make these businesses unattractive to potential acquirors, while companies looking to build scale in their non-life book through M&A have to solve the conundrum of what to do about their life operations before seeking a merger partner.
"Some larger carriers are looking to exit the life market in order to improve their balance sheets, with the bulk of life business divestments expected to end up in the run-off sector."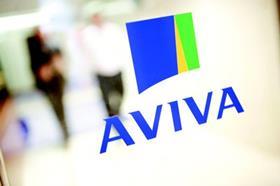 Meanwhile, Asia Pacific saw completed deals drop from 37 to 18, which is the lowest level recorded since Clyde and Co began this report in 2011.
This result was put down to post-pandemic and geopolitical uncertainty weighing heavy on deal makers.
Edwards added: "The extent of that increase will vary by region and investor sentiment – deal makers in the US are comparatively bullish, whereas their counterparts in Asia Pacific remain more cautious as they wait for a more positive economic outlook."
Japanese acquirors, on the other hand, were again the most active this year compared to 2020, ahead of India and Australia.
In the Middle East, 2020 saw a total of 32 deals. However, M&A activity in the Middle East and Africa dropped back with only five completed transactions in the first half of 2021. These all involved Middle East acquirors – two from Israel and one each from Egypt, Saudi Arabia and the United Arab Emirates (UAE).
Vikram Sidhu, Clyde and Co partner, added: "We are seeing a lot of legacy books being sold off or prepared for sale.
"The sellers tend to be companies looking to the future in a robust and creative way, trying to clean up their balance sheets and free up capital - they are taking a proactive focus on the next two, five, 10 years."