The much-anticipated Insurance Times Five Star Rating Report has finally launched! Find out how insurers are rated in this brand new, easy to navigate star system, created for brokers by brokers
Insurance Times today launches Five Star ratings for commercial lines insurers, based on the scores brokers awarded insurers and MGAs in the Broker Service Survey 2019/19.
A new Five Star ratings website and report provides brokers with an easy-to-use tool that has been designed to help in assessing providers.
The Insurance Times Five Star Rating Report rates insurers and MGAs across five different service areas.
Brokers are also encouraged to use the website to add comments about their experience of working with providers.
Five Star ratings for personal lines insurers will be published in March.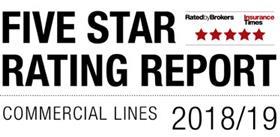 How to get involved
Insurance Times subscribers get full and complete access to the dedicated Five Star ratings website.
This includes overall ratings for 24 providers and individual ratings for each of the five service areas that brokers have rated them on: quality of cover; claims; access to decision-makers; policy documentation; and underwriting expertise and flexibility.
However, if you are an insurance broker and not a subscriber, you can still get involved.
Simply register here to access that includes:
Dedicated pages on each insurer, including overall insurer experience star ratings and star ratings for the claims service area
Selected verbatim broker comments from the 18/19 survey, both positive and negative
The ability to submit your own comments, either in their own name or on an anonymous basis.
Insurance Times content director Saxon East says the new ratings are a must-read for all brokers working in UKGI.
"The new ratings distil the key findings of the well-established Broker Service Survey into an indispensable advice tool to help brokers select the right insurer for their clients," he says. "Insurer experience is classified using an easy-to-understand Five Star rating system, with five stars representing the best performing companies, and one star the worst.
"The ratings provide a practical tool for brokers to assess insurers based on the experience of their peers, aiding in justifying recommendations to clients."
"They also help insurers benchmark performance and stand out as an exceptional broker partner," he adds.
How are the Five Star ratings calculated?
The scores from the Broker Service Survey are analysed and insurers are placed into a set of league tables according to service criteria and broker type.
By calculating the normal distribution of scores received in each service area and overall, our research team is then able to group insurers into different rating tiers depending on the standard deviation from the average.
This creates a simple Five Star rating system – the first at a glance guide to insurer experience created for brokers by brokers.