Follow @InsTimesNews
UK BROKER REGULATION REPORT
Insurance Times has created a comprehensive UK Broker Regulation report that brings together everything brokers need to know about the changing regulatory landscape. From preparing for FCA visits to handling client money, dealing with unrated insurers and the implications of thematic reviews and more, this report is required reading for all brokers.
But outsourced private investigators in the frame for new controls

Insurer gets ready to storm the regions as others pull back and strengthen reserves

Could the $11bn US market spill over into Europe?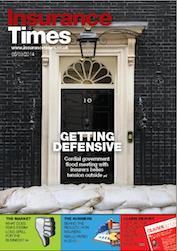 Read a digital version of the 05 March 2014 edition of Insurance Times. Highlights include a report on talks between insurers and government ministers over the recent floods, an analysis of RSA UK's results, a report on the use of social media by insurers, a snapshot of the first 2013 insurer results postings, and a 14-page claims report.  

Towergate has a range of options available, but are any of them palatable?

There's a lot the industry can take from events at the troubled insurer

To help you make sense of the changes in the regulatory landscape since the FCA took over from the FSA in April last year, Insurance Times, in association with the Chartered Insurance Institute, is creating a series of five reports focusing on a different area of regulation as it affects the insurance industry. Part 1 looks at what insurer chief executives say about the mismatch in their views of regulation and that of the FCA, and also how insurers and brokers are changing ...

Insurance Monitor is a new type of analysis for UK general insurance published by Insurance Times to deliver the customer and competitor insight you need to inform decisions and shape strategy. Designed to provide in-depth, actionable information: Insurance Monitor offers a comprehensive package of business intelligence to facilitate fresh thinking
Manage your Subscription