'It is incumbent on us all to make sure we are having conversations with customers,' says chief executive
Underinsurance within the small and medium-sized enterprise (SME) sector is not a new issue for the insurance industry, but it is one that has certainly had more of a spotlight shone upon it in recent times.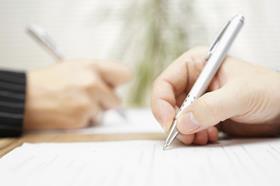 This is, in large part, due to the cost of living crisis, which has exacerbated the issue to near boiling point.
For example, earlier this year (23 March 2023), Allianz revealed that one in five SMEs across the UK had begun to reduce the level of their insurance coverage.
The poll, which surveyed 500 SMEs on their biggest day-to-day challenges, revealed that 71% of respondents said cost of living pressures were having a negative impact on their business.
So, for many businesses, securing appropriate levels of cover seems to be becoming unaffordable.
And with more SMEs cutting cover to save costs, protection gaps are being created, which Suited Insure founder and director Jana Kejvalova said "could be a disastrous if something goes wrong".
This is where commercial brokers must step up to help. Given the greater risks SMEs are facing by cutting back on insurance cover, brokers need to take on a much greater advisory role to help businesses determine what cover is essential to them.
Helen Bryant, director of digital trading at Allianz Commercial, said: "Brokers play a crucial role – their expertise will help businesses have the right protection for their changing needs.
"In this way, the insurance industry can really support business diversification."
Cyber
Speaking to brokers, it is clear that one of the biggest emerging protection gaps they feel SMEs are facing is around cyber risk.
This is no surprise. According to the government's 2023 Cyber Security Breaches Survey, which was published earlier this year (13 April 2023), cyber attacks were costing businesses an average of £15,300 in losses.
And the number of attacks is on the rise. For example, according to Howden's Coming of Age report, also published earlier this year (10 July 2023), ransomware attacks surged by nearly 50% in the first half of 2023 compared to the same period in 2022.
However, in October 2022, research from GlobalData showed that only 56.2% of medium-sized businesses, 40% of small businesses and 16.8% of micro businesses had a cyber insurance policy.
And in September 2022, Aviva found that 10% of more than half a million SMEs would not survive if a payment of up to £10,000 was required to support a claim that was not fully covered by insurance.
As a result, there is a risk that SMEs could be put out of business by cyber attacks if not covered by cyber insurance.
"The risks we know SME businesses recognise in the threat of ransomware, hacks and loss of data is not reflected in the amount of cyber coverage that they are arranging at the moment," Chris Mallett, commercial strategy manager at Clear Group, said.
And Nick Houghton, chief executive at JMG Group, said he was worried that, given a lack of cover in the SME space, the risk of cyber attacks could "grow exponentially".
"Cyber risk is all around us and is a daily risk," he said.
"The one thing that every single person and every single business needs to focus more on is the cyber threat."
Meanwhile, Ed Halsey, chief operating officer at Taveo, felt that cyber liability protection should be a "compulsory cover" to help fill the cyber protection void.
"As an industry, we have to do a far better job of articulating to clients why cyber is a problem and how they are exposed," he said.
"But moreover, we need to get across to them how it could impact their business financially and the risk associated with them not having that cover in place."
Other risks
While cyber is one of the key threats facing SMEs, business interruption (BI) was also highlighted as another emerging protection gap.
Bruce Hepburn, chief executive and founder of independent insurance governance consultant Mactavish Group, told Insurance Times earlier this year (20 February 2023) that, during the pandemic, many businesses faced unprecedented disruptions to their supply chain because of BI losses and forced closure.
And Halsey said that BI was starting to become a "big problem" – he cited figures that showed 63% of businesses had inadequate BI insurance in place.
"It is not being reviewed often enough," he said.
"You would not believe the number of times I saw, as an underwriter, a presentation come in where the BI figure was higher than the business turnover.
"If there is a catastrophic loss, they are probably going out of business – that is damning and a problem that needs resolving."
Meanwhile, Mallett said that lots of businesses were not taking management liability insurance seriously.
Directors and officers (D&O) has been a class of business which has demonstrated, and continues to suffer from, volatility.
While recent renewals have seen sizeable reductions in premiums in this line, Mallett explained that "there is a lot of lack of understanding" about the personal liability that faces individual directors and officers.
"There is a perception that, if a director is responsible for a limited company, that limited company status caps their liability, so if anything happens, they are not going to be on the hook personally," he said.
"That's not true and they can still face significant personal cost if something they have done in the course of running the business has not been appropriate."
Reducing the gap
So, how can commercial brokers reduce protection gaps within the SME space? According to Mallett, Clear Group would focus on talking to SMEs about the risks they face and show "practical examples" of the impacts they can have on a business.
"We aren't scaremongering, but by focusing on risk and areas where claims might come up, that very naturally leads into a conversation with the clients where they actually recognise something could go wrong," he said.
"As a result, they may want to engage more effectively about what risk perception options are available to them."
And Houghton felt that the "biggest piece of competitive advantage that a broker has is that it has the time and ability to have a conversation with a customer".
"The one thing we have is people that a customer can speak to time and time again," he added.
"It is incumbent on us all to make sure we are having those conversations with customers to say, 'have you thought about this risk in the context of your business' and talk about appropriate products if they choose to insure it."

James is the deputy news editor at Insurance Times and joined the publication after several years working as a reporter.

His career began in 2019, when he joined a local north London newspaper after graduating from the University of Sheffield with a first-class honours degree in journalism.

Now working within the insurance sector, James has a particular focus on motor, M&A activity and financial reporting.
View full Profile