As the demand for technology SMEs grows, brokers that provide a specialist solution will have the edge
Insurance2025: Around 69% of businesses do not have the appropriate level of insurance cover or extensions, according to Richard Brooks, broker development director at Markel UK.
He warned that brokers need to avoid "ambiguity" and ensure they have "got fit for purpose cover" for complex risk, this is especially the case for SMEs drawing on lessons learnt during the pandemic and from the FCA test case.
Brook was speaking on a panel alongside other Markel colleagues which included Mark Rankin, head of commercial services; Justine Dignam, Markel director of tax incentives and reliefs and Mark Lowther, head of financial lines sector sales during Insurance Times's three-day virtual conference, Insurance2025 in April 2021.
He told online delegates: "There's still a very high business startup failure rate – 80%. By contrast with tech, it's an 80% success rate which says an awful lot about the unique characteristics of the sector.
"I think the most fascinating thing for us is how poorly served a lot of those customers are. What I mean by that is that in our experience, so many are actually on the wrong basis of cover, because quite commonly they've been misunderstood to be something that they're not."
For example, figures from the Department for Business, Innovation and Skills show that SMEs accounted for 99.9% of the business population (out of 6 million businesses) at the start of 2020.
'Get into the weeds' of clients
Hoping to avoid insureds getting the wrong cover, Markel's technology insurance offers specific covers instead of general commercial combined policies. "We can advise once we see those inquiries and talk the broker through that," said Lowther.
"We don't like to get an inquiry and send out generic quotes and go 'hear you go' that's what you've asked for.
"Sometimes that's appropriate, other times it's a case of having a tripartite call with the client and the broker. Sometimes you need to actually speak to them [to] understand what they do, and that's something that we're not afraid to do with our brokers [and to] really get into the weeds of those clients.
"We don't do that enough sometimes as insurers."
Lowther alluded to Markel's three pillars, while he added: "Let us worry about which wording is best, where the cover best suits, what extra endorsements we can put on there, because that's what my underwriters are there to do."
The three pillars are:
1. Technology products – combined insurance products for business involved in the manufacture or wholesale of technology hardware and accessories.
2. IT and communications – combined insurance for businesses involved in software and apps, IT-managed services, website design and hosting, as well as hardware and telecoms resellers.
3. Biomedical and life science – combined insurance specifically designed to meet the complex needs of businesses involved in the manufacturing and wholesale distribution of biomedical and life sciences products.
No risk the same
Explaining the insurance product, Lowther said, "no risk is the same" and providing only professional indemnity (PI) or employers liability (EL) cover is not enough.
He continued: "In the tech space, it's more about what heads of cover you need as a starter, understanding that product, understanding that you require the equity cover, and we give that as the standard. Then what endorsements can we add in there to give cover that's tailored to that client's needs, and that could be anything from overseas specified or unspecified suppliers' extensions to customer extensions.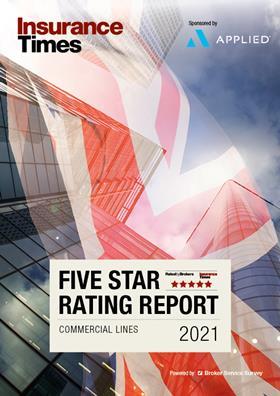 "So, that's where the wealth of experience and the underwriting team really comes before because they can look at the risk and say, okay, they've got the PI, we can do that – have you considered the products or this head of cover?"
SMEs 'need people to help'
Meanwhile, over the last 12 to 18 months, in comparison to other sectors like retail which has suffered during the lockdowns, insurtech is booming.
From both brokers and customers perspectives, "one of the most fascinating things is the speed with which companies grow", said Brooks.
MarkelTech's latest e-book states the UK's technology sector is worth £184bn and is growing at a rate that is 2.6 times faster than the rest of the economy.
Brooks added: "Incubator businesses – those businesses that start with one person on a beanbag and a laptop – within their first 12 to 18 months, the classic characteristic is that it's gone from one person to [around] 60 in that incredibly short period of time.
Rather than considering the PI and advice risks that may be arising from their initial business idea, the entrepreneur "probably has no greater need than to insure the laptop that's on their lap", said Brooks.
He continued: "It's an incredibly flexible proposition that we offer. As they become confident, they realize they can't do this alone, and they need staff, they need people to help them.
"I think it's more important than ever before in our industry with complex advised sales to make sure you've got fit for purpose cover."