Abseiling off risky heights, saying goodbye to an industry veteran and more insurtech babies - what has the industry been up this month? You heard it here first…
Son of Symes
Insurtech mascot Seb - son of Genasys co-chief executive Andre Symes - was four-months-old on 22 September. In this pic, the smiling youngster is wearing an 'Insurtech Seb' t-shirt gifted by insurtech influencer Ed Halsey and is cuddling his 'Karmadillo' from ethical insurtech Arma Karma.
In his short tenure so far, Seb has had meetings with various c-suite executives, directing decision-making from his dad's lap.
Symes said: "It's great that we can normalise dads looking after babies during office hours too."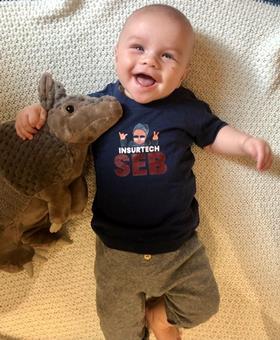 Risky heights
Insurance took to dizzying new heights on 24 September as Allianz colleagues – including chief executive Jon Dye – abseiled off Stratford's ArcelorMittal Orbit to raise money for the insurer's charity partners Mind and the Scottish Association for Mental Health.
Dye was joined by 16 Allianz staff, Mind's chief executive Paul Farmer and Insurance Times editor Katie Scott, to tackle the 80m descent.
Since the start of the three-year charity partnership in 2019, Allianz has raised more than £840,000 - it aims to raise £1m by the end of November.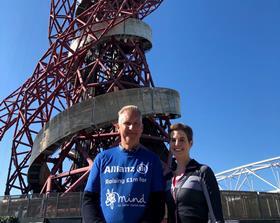 Farewell Sandy
In September, industry veteran Sandy Dunn sadly passed away after a brief illness. He was one of the founders of the UK's first telematics motor broker and data management business Wunelli in 2008, alongside Penny Searles.
Speaking about his passing, Searles said: "I have known Dunn for over 20 years and both Paul Stacy and I had the most amazing experience working with him building and growing Wunelli.
"He was professional and honourable and I am utterly heartbroken that he is no longer with us. We also had huge fun together - he made work interesting and exciting and I will miss him."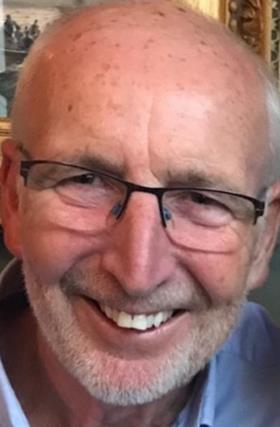 Footy counts covid costs
International insurance broker Howden published its inaugural Men's European Football Injury Index in September, which showed the significant associated cost to clubs of players testing positive for Covid-19.
The research found that there were 494 Covid-19 cases reported across Europe's top five leagues last season, resulting in players being forced to spend time off the pitch and missing a total of 7,068 days of work, costing €48.2m (£41.11m).
Across all European leagues, players missed an average of 14.44 days every time they tested positive for the virus. In the UK, the injury cost contribution was highest for Liverpool at 11.52%, followed by Manchester United (9.24%) and Manchester City (8.47%).
The Speculator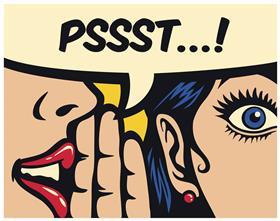 September saw the European Union (EU) propose to ease capital rules for the bloc's insurers, to release €120bn (£102.7bn) to help repair Covid-hit economies.
The proposed rule changes need approval from EU states as well as the European Parliament, but if approved, €90bn would be released in the short term, followed by a further €30bn.
Following the UK's exit from the EU last December, the country has started to review the capital rules known as Solvency II - this includes reviewing how changes made by Brussels could affect London's competitiveness.
Considering the initial complex implementation of Solvency II, what changes could the rules' review initiate and will they be welcomed by the insurance industry?