The insurer has posted a loss ratio of 65.1% for H1 2022
Direct Line Group (DLG) has reported a combined operating ratio (COR) of 96.5% for H1 2022, a deterioration of 12.3 percentage points from the 84.2% COR it recorded for the same period last year, according to its half-year financial report published today (2 August 2022).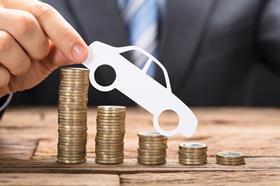 The insurer's operating profit, meanwhile, saw a tumble of 47.1% between 2021 and 2022 – from £369.9m in H1 2021 to £171.1m for the first six months of this year.
Its loss ratio was 65.1% at the end of 2022's H1, up from 52% for the same period in 2021.
Adjusted gross written premium (GWP) also fell this year, albeit by a smaller margin. DLG achieved £1,523.1m GWP in the first half of this year – a 2.1% decrease from £1,556.5m in the equivalent period last year.
In a trading update released last month (18 July 2022), DLG predicted that it would experience a profit hit based on increased inflation, regulatory changes - such as the FCA's price walking regulation - and heightened volatility across the UK market.
At the time, DLG estimated that motor claims inflation in UKGI had risen by around 10% across the first half of 2022 – up from 6.2% in 2021.
DLG has cited this escalating inflation as a key driver behind its reported COR of 105% for its motor division in H1 2022.
Penny James, chief executive of DLG, said: "As we announced in our trading update, uniquely complex motor market conditions during the first half [of the year] – due to significant regulatory changes, heightened claims inflation and macroeconomic uncertainty – have challenged our short-term profitability."
James added that the "longer-term fundamentals" of the business were in a strong position, despite these challenges.
She explained: "Through pricing action, steps taken in our garage repair network and through deployment of enhanced pricing capability, we have now returned to writing at our target margins based on latest claims assumptions."
DLG chief financial officer, Neil Manser, added that he believed the group's "vertically integrated" business – which includes the largest insurer-owned network of vehicle repair centres – had provided the firm with a "competitive advantage" and "mitigated some of the market-wide inflationary pressure".
Diversified business
In her review of DLG's results, James said that trading through the "unique combination" of factors across this reporting period "demonstrated the importance of our diversified business model".
"Outside of motor, our other businesses performed largely in line with expectations and we continue to focus on allocating capital into opportunities with the best longer-term returns," she added.
DLG's H1 2022 COR for its home division sat at 86%, while its commercial division COR was 89.7%.
James added: "In the last few years, we have set up core business lines with the technology and capability they need to thrive. With the implementation of the FCA pricing practices regulations and the removal of pricing differentials between new business and renewal customers, appropriately pricing for risk has become more essential than ever."