The market's survey showed that less than half of workers surveyed felt comfortable reporting inappropriate behaviour
Lloyd's of London has plastered the city's pubs with posters urging workers to report inappropriate behaviour in a bid to stamp out sexual harassment and bullying, according to The Guardian.
The newly launched campaign, called 'Speak Up', aims to encourage staff to report unacceptable behaviour and accelerate progress towards a culture of integrity, respect and inclusion across the Lloyd's market.
Advertisements, banners and vinyl posters will feature in Lloyd's offices as part of the new awareness campaign, promoting access to online resources and a fully confidential 24/7 helpline that includes guidance from a trained counsellor.
Responsive action
This action follows September's Lloyd's Annual Cultural Survey, which set out to gauge the scale of the cultural issues within the market by gathering staff feedback. The survey found that 38% of respondents did not know who to raise these types of concerns with, while only 45% feel comfortable enough to raise a concern in the first place.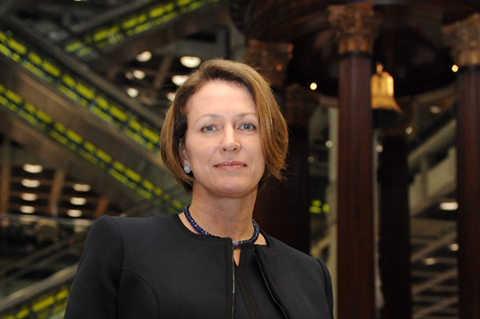 Almost 500 of Lloyd's underwriters and brokers, meanwhile, said they witnessed sexual harassment in the past year.
Over 6000 people responded to the cultural survey, which was sent out to 45,000 workers.
In October, Dame Inga Beale recalled women being referred to as 'box bunnies' or 'box bitches" at Lloyd's during her tenure.
Furthermore, back in June, Lloyd's extended its ban on drinking during working hours to all staff with passes in the offices; it had originally only banned it for 800 of its direct employees in 2017.
Speak up
The campaign aims to highlight the importance of speaking up and offers clear guidance on how individuals can take action if they see or experience inappropriate behaviour.
John Neal, Lloyd's chief executive, said the ambition at Lloyd's was "to make a positive difference in many people's lives, by empowering individuals to act and intervene when they witness unacceptable behaviour."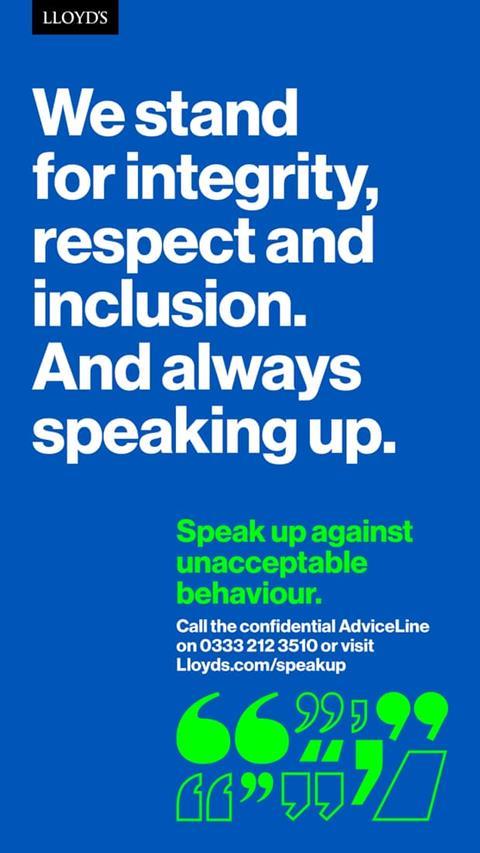 He added: "At Lloyd's we expect all market participants to act with integrity, be respectful and always speak up.
"I hope this campaign encourages more people to do so. You will be heard, you will be supported, and we will act, because no matter what form it takes, harassment is never acceptable.
"I think everyone has a role to play. Lloyd's leadership is fully committed to transforming the culture at Lloyd's with shared values that will shape the behaviours, choices and actions of everyone in the marketplace."
Standards
A designated section of the website outlines three standards of business conduct:
Act with integrity.
Be respectful and inclusive.
Always speak up.
It also gives guidelines as to how to deal with inappropriate behaviour, listing four ways to speak up:
Direct: It advises to directly challenge the behaviour if safe to do so.
Distract: Direct intervention can make things worse, especially with bullies and particularly if people have been drinking.
Delegate: Lloyd's says to inform someone else about the behaviour, such as a senior staff member or HR.
Delay: It is not always possible to act in the moment and that the victim involved may not feel safe to do so; if someone else is witnessing inappropriate behaviour, it may not always be obvious that the person affected needs help.
Subscribers read more
How can the industry stamp out the harassment culture?