The latest partnership aims to support SMEs to better protect their business using flood resilience measures
Exclusive: Live flood alert insurtech, Previsico has teamed up with UK-based MGA Acies SME to create a property insurance policy that includes a preventative flood alert service for SMEs in the UK.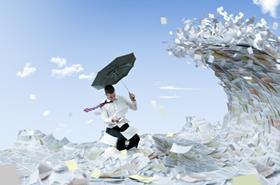 The tech-driven SMS and email alert service allows customers, insurers and loss adjusters to react to potential incidents before they happen, therefore minimising business interruption, creating benefits from an improved claims response and minimising the flood risk.
Overall, this partnership intends to help UK SMEs protect their businesses using flood resilience measures, such as moving stock to higher ground, removing mobile assets from harm's way and setting up defences.
Jonathan Jackson, Previsico's chief executive, said: "Climate change and urbanisation are escalating flood impacts – particularly in areas previously unaffected by flooding.
"Yet, most flood impacts are avoidable. Our partnership with Acies SME will enable them to support their clients in addressing this huge issue, with only 40% of SME's coming back to business after flooding."
Supporting SMEs
Previsico's live flood forecasting solution combines the latest weather data from the Met Office, IBM, and its advanced flood modelling capabilities to address the global issue of surface water flooding for insurers and their clients.
Surface water flooding makes up almost 60% of UK flood risk but warnings from the Environment Agency only cover the other 40% for major rivers and the sea.
However, Previsico's solution can predict flood events that are not covered by other warning systems, with an alert service that originates from Acies SME that can also predict location, time, and depth of flooding before the event.
John Sadler, Acies SME managing director, said: "As reported by last year's Aviva research, businesses across the UK underestimate the threat of extreme weather. Flooding is a problem and unfortunately isn't going away and Acies SME and Previsico are now at 'phase one' of our plan to help the SME sector in dealing with an ongoing and expanding problem.
"We will deliver insured, broker and insurer-specific alerts directly to mobile phones, or via email, making it relevant and easy to act upon."
A threefold increase in damage to commercial property from climate-related risk is now predicted for 2050, according to risk analysts XDI 1000.
As well as this, the UN Intergovernmental Panel on Climate Change (IPCC) said in its report, published on 4 April 2022, that "climate change could increase the annual cost of flooding in the UK almost 15-fold by the 2080s under high emission scenarios".
Mark Heath, Acies MGU Holdings chief executive, said: "As a managing general underwriter (MGU), we are driven by technology, data insights, and 'de-risking the risk' for both our clients and insurer partners.
"We create products and services with experienced underwriters that are needed for today. Embedding world-class tech into our offering means that our partnership with Previsico is a perfect fit for us and our clients."