An expert panel at Biba's annual conference last month debates the ongoing challenges in professional indemnity insurance and what changes should be made
Biba 2021: Claims has always been a "challenging" aspect of professional indemnity insurance (PII), according to Aston Lark's group chief executive Peter Blanc.
Chairing a panel discussion during Biba's annual conference in May, Blanc outlined the issue for online delegates: "For most classes of business, claims notifications just happen and its straightforward. In PII, particularly in recent years, you can almost count the days.
"The notification goes in, the reservation of rights follows shortly thereafter from the insurer and you end up with this almost confrontational arrangement between client, broker and insurer, which is really not helpful."
Agreeing with Blanc, Aon's managing director for UK retail Jane Kielty added: "The insureds that I work with, they are the ones that are looking to insure because they have got the right management and culture.
"Those insureds, generally when they have got something wrong, they want to find a way to put it right and they want to keep the customer's business. They want to keep their reputation intact.
"Equally many insureds want their insurers to sit beside them defending their position where they don't feel like they have done something wrong. If we could focus the policy response in those areas, the customers would feel much more positive about their PII."
Exiting lines
Kielty said that in her career, she has always been taught that claims and insurance is about "unfortuitous events" but the claims nature of PII policies "flies in the face of that", especially considering the last 12 years.
"It doesn't feel right that insurers are starting to withdraw from cover, withdraw from facilities. Look at brokers themselves – it is too late for brokers not to advise on business interruption coverage to their clients, [for example].
"Now when an insurer becomes aware of an issue, they all start to withdraw. We have seen it in other areas as well, whether it be construction or fire-related issues.
"The inability to provide cover to customers that actually want it is a major problem."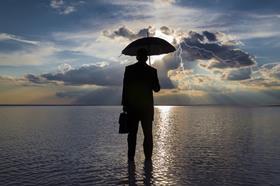 In an audience poll asking how to make PII more sustainable, 40% of online attendees said they would like to convert policies to a minimum three-year term.
Meanwhile, 28% would like to switch from a claims made to a claims occurring basis of cover - Blanc said this could create more certainty in the market.
Unified approach
From an insurer's perspective, Aviva's chief distribution officer for UK general insurance Gareth Hemming agreed there were challenges with PII, but he stressed "it takes unified action to fix some of these problems - it can't be done in isolation. Therefore, having the conversation and starting to bring some of these thoughts out is exactly the right thing to do".
Referring back to Kielty's point, he continued: "Capacity equals capital, capital has to get a return on it and as risks become more apparent, it is much harder to put your own capital at risk against things when effectively you have much more certainty of a loss."
Manchester Underwriting Management's director Richard Webb agreed that there had been a shift in the way PII claims are handled now compared to the mid-1980s.
He explained that after an incredibly long soft market with PII, one way for insurers to save money is by cutting back on claims - however cutting back on in-house claims also means more outsourcing.
He said: "Third party administrators (TPAs) can be really effective, but I think there's an issue when you start to outsource too much or if you haven't got it aligned in the right way.
"TPAs, while they may be good at handling claims, they are not as closely aligned to the underwriter; they don't come from an underwriting background, so linking that knowledge from the claims to underwriting can start to break down and that's the central part from an underwriting point of view.
"If you want to get pricing right and write a profitable book of business, then you have got to have that feedback from the claims coming back to the underwriting."
Webb gave the example of brokers' directors' and officers' insurance, which MUM writes a lot of - the MGA's policies include cover for Covid-19, while much of the market has instead pulled out of this line.
MUM also provides a claims prevention helpline, which insured brokers can call and directly speak to someone at a partner law firm for advice.
Nic Brown, Markel UK's sales and marketing director, added that there is a groundswell of support to end the "boom and bust" cycle of PII pricing.
"We all need to take that on board, with availability of cover being the big challenge in the PII market. In terms of capital driving capacity, no. Long-term, sustainable solutions at the right price, benefits [and] claims approach is where we need to provide and gain the trust back from the customer," Brown continued.
He stressed that "it's a dark time for SMEs and it will continue to be". Therefore, being a customer champion is absolutely critical for the longevity of this product line.