Flood Re had a target to achieve 25% female representation at executive level by 2022 - it has achieved this a year early
Flood Re has strengthened its senior team with four new hires – Andrea Santolalla, Stuart Logue, Emily White and Jean Sharp.
These four new recruits will support Flood Re's mission to help deliver affordable home insurance for those living in high flood risk areas, as well as prepare the scheme to transition out of the market by 2039.
Flood Re is passionate about improving gender diversity at senior levels within the organisation. It had an internal target to achieve 25% female representation at executive level by 2022.
This target has now been achieved a year early due to Santolalla joining the team, however Flood Re will be revising this objective later in the year.
Andy Bord, chief executive of Flood Re, said: "I am proud to announce these four new appointments and am excited to welcome them to the team. I am confident they will do great things here, building on the fantastic work of our existing colleagues.
"They join at a pivotal time for Flood Re, as climate change and growing risks of flood damage put new pressures on insurers.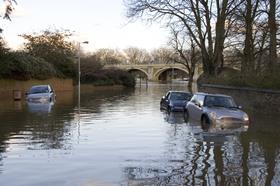 "I look forward to working with all of the team and for the experience and insight they will bring with them."
New recruits
Santolalla joined Flood Re on 26 May. Previously chief operating officer at Hiscox Special Risks, she will take on the role of director of operations to oversee the claims, underwriting, operations, outsourcing, IT and data functions.
She has 15 years of experience in (re)insurance and banking, spanning operations, risk management, compliance and supervision.
Logue will become Flood Re's new chief financial officer, effective from 1 March 2021. He initially took on an interim post in October 2020.
Logue has a strong track record in financial management across the financial services sector, with experience as chief financial officer at HomeServe Membership, as well as deputy chief financial officer at Ageas UK.
White has joined Flood Re from Lloyds Banking Group, where she led the weather modelling team - she started at Flood Re on 17 May 2021 as its head of catastrophe modelling.
She brings more than 15 years of experience in catastrophe risk modelling and management across insurance, public policy and alternative risk transfer.
Meanwhile, Sharp joined the scheme as a non-executive director on 1 April 2021. She brings more than 20 years of experience from Aviva and its predecessor companies.
Most recently, she worked as chief taxation officer, however she currently holds a number of non-executive director roles, including chair of the audit committee at investment trust Personal Assets Trust, as well as operations and governance committee member of the RAC Pension Trustees, which is the corporate trustee for the RAC (2003) Pension Scheme.
Since Flood Re was launched in 2016, the availability and affordability of home insurance for householders at risk of flooding has improved significantly.
For example, independent research has revealed that 96% of home owners whose property has flooded previously are able to receive quotes from five or more insurers. This is compared to 0% before the introduction of the scheme.
Furthermore, 79% of householders with previous flood claims have been able to find quotes that are more than 50% cheaper that past quotes.