UK is not in the grip of 'rampant compensation culture' as registered cases drop between 2018-2019 and 2019-2020
The Department for Work and Pension's (DWP) Compensation Recovery Unit (CRU) has recorded a decline in registered cases needing its services between 1 April 2018 to 31 March 2019 and 1 April 2019 and 31 March 2020 – registered cases have fallen from 862,356 to 829,252 over this time frame across clinical negligence, employer, motor and public liability claims.
The CRU liaises with insurers and solicitors to recover social security benefits that are paid as a result of an accident, injury or disease if a compensation payment has been made. It also reclaims any costs that have been incurred by NHS hospitals and ambulance trusts for treatments regarding injuries received from road traffic accidents and personal injury claims.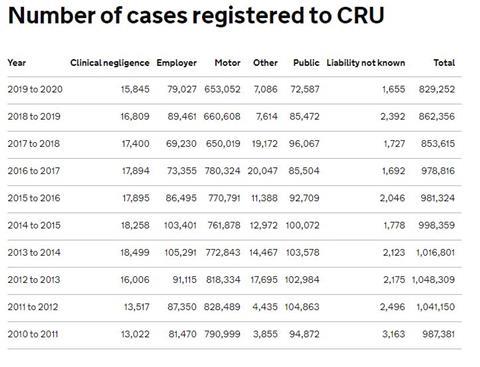 The most recent data set, published on 17 July, noted that the number of settlements recorded by the CRU have increased compared to the 2018-2019 findings. In motor claims, for example, 17,085 more settlements were recorded for the 2019-2020 year versus 2018-2019.
Recoveries made by the CRU between 1 April 2019 and 31 March 2020 includes £14.084m for clinical negligence claims, £31.732m for motor claims and £6.641m for public liability claims. Recoveries for employers' liability claims amounted to £66.835m.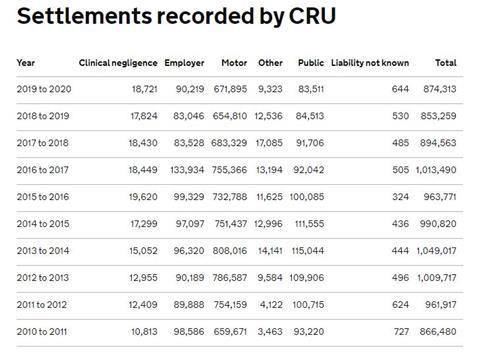 Speaking on the published figures, Matthew Maxwell Scott, executive director of the Association of Consumer Support Organisations (ACSO) said: "The data goes yearly to the end of March 2020, so there is no opportunity to see the full impact of the pandemic on claims, especially motor claims, which we would expect to have dropped significantly as a result of the lockdown.
"What it does underline is the continuing long-term reduction in motor-related injury claims, from a high of nearly 830,000 in 2011-12, to just over 650,000 last year (to March 2020).
"Over a 10-year period, all claims have fallen with the exception of clinical negligence, although more recently, clinical negligence claims have fallen year on year since 2015.
"That long-term declining trend across most if not all classes of claim underlines our view that the UK is not in the grip of a rampant compensation culture, which some policymakers and corporate vested interests would have us believe.
"It remains to be seen what sort of impact the Covid-19 pandemic will have on the numbers, but they are likely to fall significantly between March and June, given the reduction in traffic."