Insurance Times is pleased to announce the launch of the 2022 Etrading Survey.
Insurance Times invites the broking community to share its experiences of the leading insurer extranet platforms and software house systems anonymously.
As each year passes, more products, services and innovations are being implemented on insurer extranet platforms and software houses, emphasising that etrading is now the standard way of doing business for a number of brokers nationwide - especially following the coronavirus pandemic.
Last year, approximately 1,000 brokers took part in Insurance Times' survey and voted for their preferred insurer extranet, software house and insurer via software house system.
Insurers and software houses use brokers' anonymous feedback from the etrading survey to transform their etrading systems, meaning your views can really influence the future of etrading.
Take a look back at the 2021 Etrading Survey winners here.
Brokers use the Insurance Times Etrading Survey to voice their opinions regarding the insurer platforms they have frequently used over the last 12 months of trading activity. Plus, survey respondents also provide granular feedback on the broker management system their firm uses.
The Etrading Survey analyses a number of key areas - this year, for example, the survey aims to uncover how well insurer platforms and broker management systems have matched broker expectations through the many pandemic-ridden challenges of the last 12 months.

This year's survey will also place more focus on the overall referrals process that is implemented by insurers. This is based on findings from 2021's survey - see below for how long brokers had to wait on average last year for their referral to be cleared: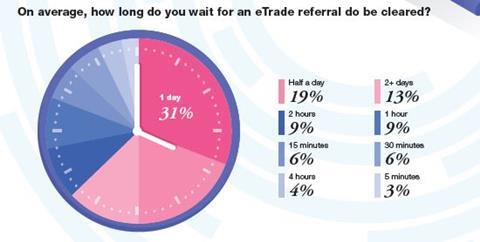 Brokers that predominantly use insurer extranet platforms will analyse the following factors in the survey:
Usability and trading ease.
Quotability.
Quality of support.
Quality and number of questions asked.
Breadth of cover and product range.
Brokers that have a broker management system are encouraged to offer feedback on the below points: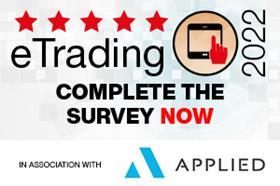 Usability and trading ease.
System reliability.
Range and breadth of products.
Client management tools and support.
System technology and innovation.
All brokers that complete the survey will receive an exclusive Insurance Times Etrading Summary Report and be entered into a prize draw to win £250-worth of John Lewis vouchers.
To take part in the survey, please click here.