The firm's latest report stressed 'the impact of potential liability exposure, particularly in relation to event cancellation and BI claims' linked to the coronavirus pandemic
American credit rating firm Fitch Ratings has confirmed that the credit quality of UK non-life insurers could be affected by the impending court rulings on the validity of business interruption (BI) claims resulting from the Covid-19 pandemic.
Its report, Coronavirus Impact: UK Non-Life Insurance, described policy wording for BI insurance as "crucial" and that "courts may rule in favour of claims in cases where policy wording is loose" – Fitch Ratings believes that BI and event cancellation claims are most likely to be the main cost of the pandemic to the UK non-life insurance sector.
In this report, Fitch Ratings reviewed UK non-life insurers' ratings, taking account of the pandemic, for March and April, assessing insurer's pro-forma financial metrics under a set of rating-case assumptions. These included a 35% stock market decline since 1 January 2020, wider credit spreads and increased bond defaults, lower interest rates, reduced capital market access and higher non-life loss ratios, other than for motor insurance.
Where pro-forma profiles notably breached insurers' existing rating sensitivities, its ratings outlook was revised to negative or ratings were placed on Rating Watch Negative or downgraded.
Of the eight groups reviewed, one had its rating downgraded, one was placed on Rating Watch Negative and six were affirmed; three with a stable outlook and a further three with the outlook revised to negative. Two of these negative outlooks have since been returned to stable following equity capital raises.
The firm explained: "The main stress in our assessment was the impact of potential liability exposure, particularly in relation to event cancellation and BI claims.
"These claims will affect underwriting results over the rest of the year and may not peak until 2021, particularly in cases where litigation is involved."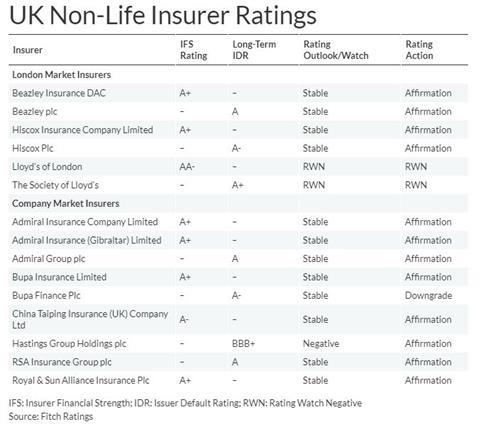 Profit potential?
Despite car use declining since the introduction of the national lockdown – with many insurers in this line of business demonstrating a correlating reduction in motor claims – Fitch Ratings predicts that less claims will not result in higher profits "as we think pressure from regulators and consumer action groups will force insurers to return excess profits to customers".
Furthermore, Fitch Ratings said most insurers in this sector had "strong capitalisation".
It continued: "Most of the insurers we reviewed had strong capitalisation under our rating-case assumptions, reflecting their conservative investment portfolios focused on short-duration investment-grade government and corporate bonds, with limited exposure to equities and below-investment-grade bonds.
"There were just a few exceptions, where a lack of capital headroom relative to the rating level led to negative rating actions. Beazley and Hiscox subsequently issued new ordinary share capital, which led us to revise the outlooks on their ratings back to stable."
Read more…Ardonagh: Under the bonnet of the broker's financials
Not subscribed? Become a subscriber and access our premium content