Head researcher, Savan Shah speaks to the departing managing director at NIG commercial, Neil Manser on its performance in this year's Insurance Times eTrading survey and the debate surrounding the imarket question set.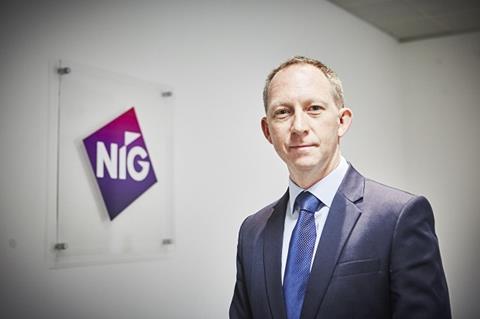 1) Congratulations on being voted as the no.1 insurer via software house platform in the Insurance Times 2018 Etrading survey. How is this news being received at NIG?
We are very pleased. It reflects a lot of work we've done on software houses.
More and more brokers are using software houses like Acturis to trade and for us the key is finding out broker trading requirements and then solving those through the software house route. The fact that we do that really well is evident by the score.
2) NIG did well in the survey within the service factor 'product range'. How do you continue to provide customers with the products they desire?
First, with our current products, we continue to engage with brokers and their customers to work out what is important to them, what changes they need and provide support. For example, we have made some enhancements to our property owner's product.
Secondly, where there are gaps in the product range, we work out if we can offer our brokers a solution, and then we build the product for them.
3) Some brokers in the survey felt that the more complex the risk, the more likely the need will be to speak to an underwriter. How do you create a portal that can reduce the complexities and capture the risk without the need to speak to an underwriter?
As an insurer you can continue to refine your underwriting rules and acceptability of each risk as the system is sophisticated to do that. In continuing to do that you will increase the amount of straight-through, no-touch business.
When business gets more complex, the broker's preference may be to check with the underwriter, who may have some additional questions. So I don't think you will eliminate contact with an underwriter, and that's to the broker and customer's benefit as they gain a better understanding of the risk involved.
Certainly, over time, more and more business will be able to go straight through. It's been an evolution from the start where a limited number of risks went straight through. Now, more complex lines can go through, but I think there will still be the need to have an underwriter on the more complicated risks.
We are exploring purchasing risk data from other sources, to allow us to collate risk information without asking brokers. This would effectively pre-populate our question sets as a standard and reduce the number of questions we ask.
4) An area we looked at in the survey was the quality of the question set, with comments varying from the question set is 'too long,' 'too short' or even about irrelevant dubious questions. How do you ensure you have the right questions and reach that fine balance brokers seek?
Most software houses we use have an iMarket question set, so we can influence the question set but we can't change it ourselves. I think there's an influencing piece that we, and other insurers, need to get involved in, asking "is there a historic question in there that the industry no longer need answering?"
Secondly, on extranets where we have much more flexibility, we can take questions out, reduce question sets and use external data so we don't need to ask questions.
One of the things we are looking at this year is to reduce question sets, making it a lot easier for brokers to get a quote on the extranet, so that their journey is effortless, and it takes less time to get a quote.
I think if we can cut the question sets, brokers will be very supportive of that. But we need to do this whilst maintaining the data we have and using external data more effectively to refine or eliminate questions.
5) Out of the 743 brokers that took part in this year's survey, we found nearly 40% must wait up to a day for an eTrade referral to be cleared. What efforts are being made to speed up that process?
It's unlikely that a broker will have to wait up to a day to hear from us as we aim to clear referrals very quickly.
We can do this by referring less, for example using other data sources to enrich and hence remove the need for certain referrals. We use a lot of ways to prioritise referrals and speed up the process such as web chat to respond to live requests.
Some complex referrals take time, but we are using multiple tools to speed those up and where brokers are happy for us to call them up, we will do that…
6) A new area of analysis in this year's survey was to investigate the broker journey whilst acquiring insurer products via a software system. Could you tell me how much involvement NIG have around the broker journey when products are available on a software house system?
We start with what the customer wants, so we get feedback from brokers and their customers. They know our products, and if there are gaps, we find out what those are.
If there is a product need that isn't currently on offer, we talk to brokers to understand their needs and what they want the product to look like. We then start the development process with Acturis.
There will be brokers who have slightly different requirements for their journey. If this is the case, we will work with the software house to build that functionality for that specific broker.
7) Have there been any changes to the underwriting team at NIG? Any new developments over the last year?
We are constantly investing in our people, giving them both technical and soft skills training. Everyone goes through a program called Connect which is about having great conversations with brokers to improve the customer experience.
That was a big investment for us and the feedback we're getting is fantastic.
Blending that great customer service approach with the technical knowledge allows us to deal effectively with product queries and find solutions quickly. We've invested in our people - they are the traders in our organisation and they are empowered to trade.
E-trading is not just one size fits all. There are risks that go straight through, but with more complex risks, we need to pick these up, be flexible and trade with the broker. That's really important to us.
8) What are you excited about in the year ahead for the platform that brokers should be aware of?
We have just launched a new property owners product, which includes 'average free' policies, increases the unoccupancy clause from 30 days to 90 days and has some best of breed extensions in there. We are very excited about the opportunity here - we think it's a great product.
Through the course of the year we will be investing in our products, developing and expanding our product range whilst working with brokers to see what they want next.
We're also looking at ways we can use external data to unlock more, and improve the customer journey for the broker, especially on the extranet where we think there is a development opportunity to make the Hub the extranet of choice in the broker market.
9) Could you briefly touch upon your commitment of being "effortless" in your recent campaign?
We believe that insurance should be a walk in the park - creating an environment which is as smooth as possible for our brokers..
We are investing heavily behind the theme of 'being effortless' and this all stems from broker feedback about how we can deal with them better and where the areas of most friction exist. Part of this is systems driven, but a lot of it is people driven as we are a people to people business.
Investing in people, being clear as to who the decision makers are, having the right underwriters, having instant documentation etc. These are just some of the many steps we are taking to be effortless to trade with and it is a theme you will see from us over the course of next few years.
Our vision is to be the brokers' choice, therefore, being effortless is key part of that and you will see that through our investment and communication.

The Insurance Times Etrading report is out now to order:
Discover how over 740 brokers view each stage of etrading on the leading insurer platforms and software houses in UKGI.
Gain valuable insight into product demand, barriers and support brokers desire to trade more policies.
Discover how brokers rate their chosen route of trading in areas such as security, navigation, products, referrals and more!
Learn what brokers really need from insurers and software houses to compete in an evolving industry.
Determine your strategic plan by learning from brokers feedback in 10 key etrading subject areas.
Register your interest here - https://www.surveymonkey.co.uk/r/EtradeInfo
or alternatively contact Jack Thomson on 0207-618-3433 or at jack.thomson@insurancetimes.co.uk