The premium finance provider is urging all SMEs to consider finance options as they plan for the future post-pandemic
SMEs finances are being squeezed with nearly three-quarters (73%) of SME bosses who use credit to pay for insurance admitting that the pandemic is the main reason for increased borrowing, according to Premium Credit's Insurance Index.
The index, which polled 291 SME owners and managers between 1 and 3 April 2021, also found that premium rises from insurers were to blame for increased borrowing, with 36% of firms citing this as a reason for using credit.
Premium Credit is therefore advising SMEs to consider premium finance to spread payments out instead of having them in a lump sum.
The premium finance provider also revealed that one in three (33%) respondents admitted that reserves have plummeted during the Covid-19 pandemic. Meanwhile, 7% said their business has no cash reserves - only 13% saw a rise in cash reserves over the course of the pandemic.
Owen Thomas, chief sales and marketing officer at Premium Credit, said: "SMEs have demonstrated their resilience and adaptability through the Covid-19 crisis and that has included making good use of credit to ensure they can maintain business critical insurance.
"Now they are starting to see the light at the end of the Covid-19 tunnel, it is important that they plan for the future.
"It is worrying that so many are relying on credit cards, which can be an expensive way to pay for insurance if you only make the minimum monthly payment.
"Their insurance broker will be able to advise on how best to fund the appropriate level of cover for their business."
SMEs using credit to buy insurance
| TYPE OF INSURANCE | OVERALL PERCENTAGE OF SMES THAT USE CREDIT TO PAY FOR SPECIFIED TYPE OF INSURANCE |
| --- | --- |
| Vehicle insurance | 75% |
| Property insurance | 52% |
| Employer liability insurance | 30% |
| Business interruption insurance | 26% |
| Cyber insurance | 22% |
| Key man insurance | 17% |
Source: Premium Credit Insurance Index
Role of brokers
The firm's own data in 2019 and 2020 revealed its premium finance net advances for commercial insurance increased by 11% in 2020 compared with the previous year, even though the number of policies only rose marginally.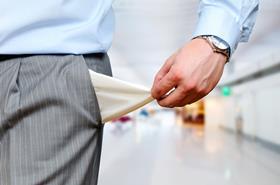 Meanwhile, most additional borrowing went on credit cards (60%), while 40% of SME bosses took finance from insurers or are using premium finance.
Under a quarter (24%) of SMEs, however, are turning to personal or business loans.
Steve White, chief executive of Biba, said: "Premium Credit's research underlines how important credit is in ensuring companies can continue to afford business critical cover and the role of brokers in supporting firms.
"Insurance brokers can advise on suitable insurance and discuss premium finance should they want to spread the cost of their policies."
Premium Credit's research also demonstrated the impact of not having insurance or being underinsured, as 9% of firms that have suffered damage to property or belongings over the past five years were unable to claim for this because they didn't have insurance or because they were underinsured. Average losses were around £2,000.