After a three-year hiatus due to the Covid-19 pandemic, the trade association is back in Manchester with its annual conference, where Insurance Times will reveal its annual eTrading report results
Broking trade association Biba is gearing up for its annual conference on 11 and 12 May 2022, returning to the Manchester Central Convention Complex after a three-year hiatus caused by Covid-19 restrictions and uncertainty.
As well as hearing from Biba's regular spokespeople – chief executive Steve White, executive director Graeme Trudgill and chairman Jonathan Evans – the trade body has also secured keynote addresses from Andy Burnham, mayor of Greater Manchester, Sheldon Mills, executive director of consumers and competition at the FCA, as well as popular journalist and presenter Andrew Marr.
Attending brokers will also be able to listen to inspirational stories from sporting greats on the second day of the event, including cyclist Dame Laura Kenny, boxer Nicola Adams OBE and Paralympic sprinter Jonnie Peacock MBE.
White emphasised that he is "looking forward to every minute" of 2022's conference.
He told Insurance Times: "I am very much looking forward to the culmination of much hard work by our conference team when we reach Manchester [in] May.
"It's always exciting to see the exhibition hall pristine before the melee, [but] I absolutely can't wait to get on the main stage in the auditorium and welcome delegates from far and wide.
"Seeing our members and partners networking and getting deals done face-to-face in one place is something that has been sorely missed."
Bringing back the buzz
While keen to experience the "buzz of the exhibition hall after a three-year gap", Trudgill is "most looking forward to seeing everyone all together face-to-face".
He continued: "There will be lots of opportunities for brokers to meet underwriters and decision-makers, do new deals, network, boost their continuing professional development (CPD) in the sessions and learn from the motivational speakers, including three gold medal Olympians."
Trudgill is also excited for this year's conference agenda – particularly the keynote session with Marr and a political panel discussion he is chairing.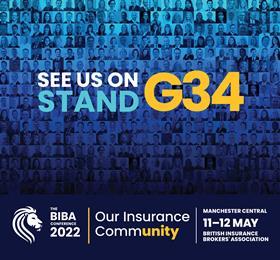 "I am sure [Marr] will be fascinating with so much going on in the world of UK and global politics," he said.
"Talking of politics, I am really delighted to be chairing a session with three former ministers on insurance that will be a real highlight."
ETrading stars
In addition to the exhibition and conference, brokers attending Biba's two-day event will also be able to find out the full results of Insurance Times' annual Five Star Rating Report: ETrading – the 2022 report polled 820 brokers.
This year, brokers trading via insurer extranets gave Aviva and Zurich the maximum five star rating, with an additional four insurers receiving a four star result for this category.
Both Aviva and Zurich were also awarded five stars by brokers that trade with them via a software house system.
In terms of software houses themselves, brokers ranked Acturis in pole position, followed by Applied Systems in second spot.
Speaking on the report, Insurance Times head of research Savan Shah said: "ETrading is arguably more important now than ever before.
"We are excited to share the insights found this year, which we feel can help drive eTrading forward to better suit the needs of brokers nationwide.
"A massive thank you to each and every broker that took the time to share their eTrading experiences over the last 12 months of business."
Insurance Times looks forward to greeting brokers
Don't forget to visit the Insurance Times team while attending Biba's conference this year – you can find us at stand number G34, where we will be giving out complimentary copies of the Insurance Times magazine.
A full breakdown of 2022's eTrading report results will be available for free to Biba delegates who are registered users of the Insurance Times website – report findings will be showcased on the website's Five Star Rating section, alongside our comprehensive conference coverage.
Registration is free and easy at www.insurancetimes.co.uk.
The editorial and research team will also be perusing the exhibition floor and listening in to conference sessions, so do come and introduce yourself if you spot us – we're looking forward to catching up with you all.